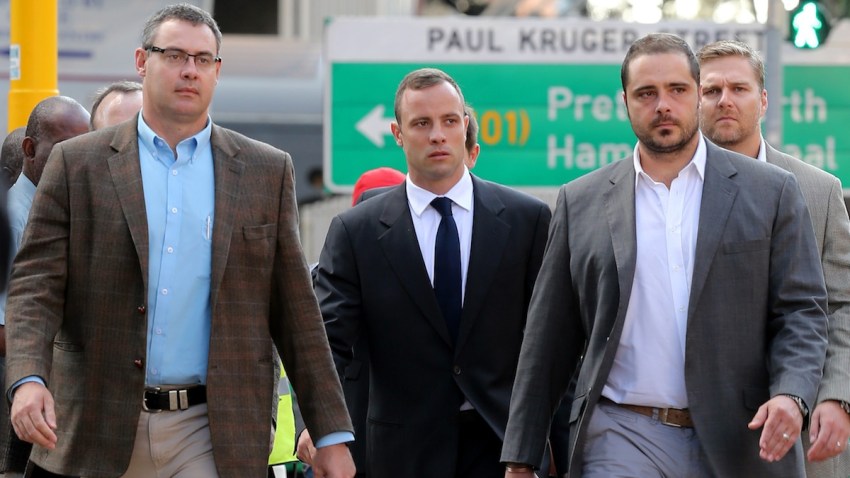 Oscar Pistorius' girlfriend told the athlete she was sometimes scared of him and complained about what she described as his short temper and jealousy in the weeks before he killed her, according to phone messages revealed at the Olympian's murder trial on Monday.
"I can't be attacked by outsiders for dating u AND be attacked by you, the one person I deserve protection from," Reeva Steenkamp wrote to Pistorius.
In another message read out loud by police Capt. Francois Moller, Steenkamp said she was sometimes afraid of the athlete: "I'm scared of you sometimes and how you snap at me and how you act at me."
Moller extracted information from Steenkamp's phone and said he obtained more than a 1,000 exchanges between her and Pistorius on WhatsApp and other phone messaging applications. Moller said he was given two BlackBerry phones, two iPhones, two iPads and a Mac computer the day after the shooting death of Steenkamp.
Moller said the data on her phone would print to more than 35,000 pages. Of the fraction of exchanges between the couple, Moller said that about 90 percent were what he called normal and "loving" exchanges.
In earlier testimony Monday a neighbor testified that she heard gunshots as well as screams from both a man and a woman on the night that the double amputee runner fatally shot Steenkamp.
Anette Stipp's testimony matched some of the evidence given by other witnesses earlier in the trial who said they also heard a woman screaming around the time that Pistorius killed Steenkamp before dawn on Feb. 14, 2013. According to Pistorius' version of events, he thought Steenkamp was in bed when he fired his pistol. He did not describe any woman screaming.
The defense has countered that the neighbors were actually hearing Pistorius screaming in a high-pitched voice after he shot Steenkamp, a 29-year-old model. Pistorius has said he shot his girlfriend by mistake through a locked toilet door, thinking that she was an intruder in his home.
Stipp said under cross-examination that she heard gunshots while lying awake around 3 a.m. on the night of the shooting, and then heard the "terrified, terrified" screams of a woman. Her bedroom is situated across a grassy area about 70 meters (230 feet) from Pistorius' home, and the windows of the athlete's bathroom are visible from her window.
"The screaming at that stage just continued," said Stipp, who recalled looking out from a balcony at two houses with lights on in the gated estate where her family and Pistorius lived.
She said she told her husband Johan, who previously testified, that the screaming sounded as though a "family murder" had taken place.
"There was definitely a female screaming for quite a period," Anette Stipp said. "You could definitely hear two different voices."
She said she then heard a second set of shots, and the screaming stopped.
The defense has said that Pistorius fired into the door and then battered the door with a cricket bat to get to Steenkamp after realizing she was inside the toilet cubicle. It insists that some neighbors who testified mistook the sound of the cricket bat striking the door for gunshots.
Pistorius' camp also maintains that Pistorius fired with quick bursts that gave Steenkamp no time to scream, and so Pistorius did not realize he was shooting at Steenkamp. A South African police ballistics expert, however, has testified that the first of three bullets that struck Steenkamp hit her in the right hip, giving her time to scream before she was hit in the arm and head.
Nel has said he will wrap up his case against Pistorius this week after calling four or five more witnesses to support his contention that the Olympian intentionally killed Steenkamp after an argument. The defense will then present its case.
Judicial officials say the trial will continue until May 16, with a recess in April.
Copyright AP - Associated Press