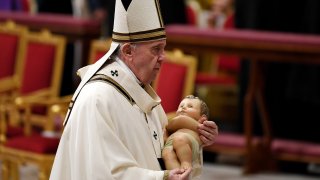 Pope Francis says he has dispatched two cardinals to Ukraine, a highly unusual move.
The pontiff said Sunday that "the Holy See is willing to do everything to put itself in service for peace." The papal almsgiver, Cardinal Konrad Krajewski, has been dispatched with aid, along with Cardinal Michael Czerny, who is head of the papal office that deals with migration, charity, justice and peace.
Francis did not say where exactly the cardinals had gone, but said they represented him and all Christian people with the message that "war is madness.''
Referring to Ukraine as "that martyred country," Francis called for a cessation of violence, the establishment of humanitarian corridors and a return to negotiations.
"In Ukraine, rivers of blood and tears are flowing. This is not just a military operation, but a war that sows death, destruction and misery,'' he said in his traditional Sunday blessing.
This is a live update. Click here for complete coverage of the crisis in Ukraine.
Copyright AP - Associated Press