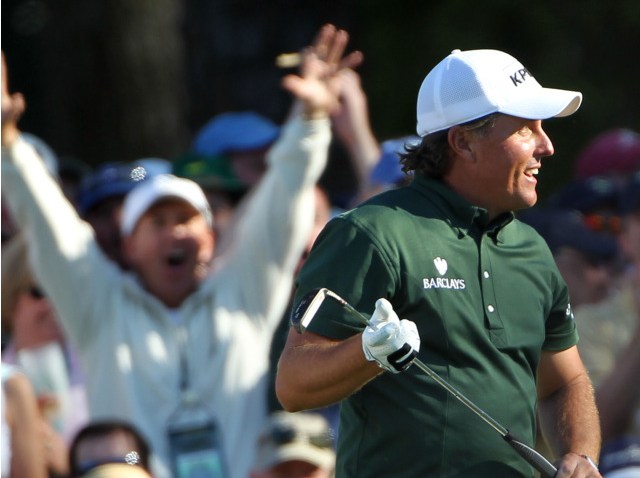 AUGUSTA, Ga. - The dreamy and dramatic scenario, which might require a few zillion hankies for the eyes that would surely dampen, is hours away. Can't you see it happening at dusk on a glorious Sunday at the Masters?
Phil Mickelson lining up for the putt that clinches his third green jacket. He sinks it, then gives Bones Mackay, his loyal caddie, a quick squeeze. Then he turns and runs toward two women, arms spread wide, while everyone in the gallery feels a melon in their throat.
Mary Mickelson, his mother, and Amy Mickelson, his wife, both cancer battlers, engage in a group hug and whisper something that's only meant for his ears. Cue the soft violin music and Jim Nantz.
"This is the first week that they've traveled with me in 11 months," Mickelson said. "So it's been a fun week."
No. It's been a great week. And an amazing three-hole stretch that saw him seize the hype and hope away from Tiger Woods. With a few sure strokes of his club, Mickelson produced some third-round magic with back-to-back eagles and nearly stretching his eagle streak to three straight. When he dropped his second shot on No. 14 within a few feet of the cup and then got a friendly roll for the second eagle, it sounded like a Boeing 747 just started up its engines. The roar of appreciation was that seismic.
"On 14, that walk-up," said Mickelson, smiling at the memory of the crowd giving him goose bumps, "it sure was fun."
The crowd knows and everybody knows what's going on here. His wife and mother were dealt double-blows last year when they were diagnosed with cancer. Mickelson was crushed, quite obviously, and took a break. He then returned to golf this season, but didn't play very well. His concentration was fractured, as one might imagine. Amy, in particular, has been a constant in his life around the course, being one of the more popular golf wives, always smiling and staying down-to-earth.
This feel-good story goes counter to, um, the family situation with Woods.
And so it's quite possible that Mickelson has stolen the Masters away from his rival. Even though he trails Woods in green jackets, 4-2, this course agrees with Phil. In tournament history, he trails only Woods in career scoring average, and ever since he leaped for joy, all four inches, for his first major championship six years ago, Mickelson has been a constant threat.
The shot on the par-5 13th rolled eight feet from the cup, giving Mickelson the easiest eagle putt he'll ever make. At least until the next hole, when the ball showed him some more love.
"I took a chance on 13 to go for it," Mickelson said. "On 14, it's the easiest hole on the golf course, but you don't expect for it to go in. It did. It was a fun day to see the leaderboard change."
Suddenly, Mickelson finds himself in a final group with leader Lee Westwood and holding a three-shot cushion on the one player who matters most.
"I haven't played this well in a long time," Mickelson said. "I've been putting aggressively. This is the way I expect to play. I feel great about my game."
As for Woods? He's there, right there. Anyone who knows Mickelson's history is aware of how a collapse wouldn't be a major shock. There's also Westwood, the only golfer in the field with three rounds under 70, trying to become a first-time major winner himself. But Woods is four back and can be rather sinister on Sundays.
But he won't be the favorite, from a crowd standpoint. The people may remember how Woods lost his temper twice Saturday — wasn't he supposed to turn the corner on that? — with PG-rated rants and a flip of the club after errant shots. So much for change. Plus, you can imagine how uncomfortable the applause might be, along with his acceptance speech, should he win. Who does he thank? His wife, who refused to show up?
Given his situation, Mickelson comes across in public as the anti-Tiger, although maybe it's best we don't place any labels on anybody. That's because we don't know them. Mickelson as goody-goody? Yeah, people will chew that up. That's an easy concept to embrace. But people also fell for Tiger, too, up until the day after last Thanksgiving. At this point, let's just appreciate these sports figures, no matter how "perfect" they may seem in public, for their gifts and leave it at that.
That doesn't mean it's not worth getting worked up if Mickelson wins and greets the strong women in his life.
"I love being in contention on Sunday," he said. "I'm excited. We're going to have a real shootout. It's going to be an exciting Sunday."
And it might be a tearful one as well. Two players will command our attention Sunday but only one can make for an emotional day.
Copyright MSNBC - MSNBC