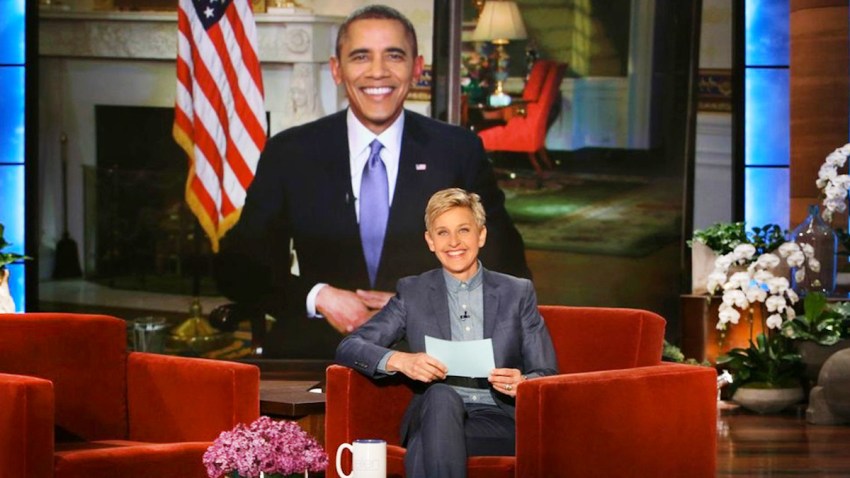 Ellen DeGeneres created a viral sensation when she took a star-studded selfie with Jared Leto, Jennifer Lawrence, Channing Tatum, Meryl Streep, Julia Roberts, Kevin Spacey, Bradley Cooper, Brad Pitt, Lupita Nyong'o and Angelina Jolie at the Oscars on Mar. 2.
Within less than an hour, the picture crushed the retweet record set by Barack Obama on Nov. 6, 2012. At the time, the reelected U.S. president posted a photo of himself with First Lady Michelle Obama and wrote, "Four more years."
President Obama appeared via satellite on Thursday's "The Ellen DeGeneres Show," and the comedienne couldn't help but brag about her virtual victory. "I don't know if you know this, but I was aiming to break your record of retweets and I apologize for doing it," DeGeneres said. "But I broke your retweet record."
"I heard about that," Barack replied. The 52-year-old politician then joked, "I thought it was a pretty cheap stunt myself. Getting a bunch of celebrities in the background...you feeding them pizza."
NEWS: Which A-lister did Ellen DeGeneres hope to crop out of her selfie?
POTUS has hobnobbed with his fair share of stars over the years, but he rarely relates to the characters they play. "I watch 'House of Cards.' I haven't seen 'Scandal' yet, but Michelle has watched 'Scandal.' I have to tell ya, life in Washington is a little more boring than displayed on the screen," he explained. "The truth of the matter is, if you followed me, most of my day is sitting in a room listening to a bunch of folks in gray suits talking about a whole bunch of stuff that wouldn't make very good television."
"Oh, well that's what I do and we make great television," DeGeneres said.
"I have to tell you, though, Ellen, there's not much dancing in the situation room. As a general rule."
"No?" DeGeneres asked in mock surprise. "That's what's missing. That's what you have to do."
Barack agreed, saying, "That's the problem."
PHOTOS: 15 stars who could be president
DeGeneres--who jokingly referred to the commander-in-chief as "Michelle's husband" during her interview--also spoke to Obama about raising two teenage daughters. "I don't know if everyone heard this, but you made the most amazing comment about if they would ever get a tattoo--and I think everyone should stick to this rule--if your daughters got tattoos that you and Michelle would also get the same tattoo in the same place and you would all take a family photo of all the tattoos," she said.
"That's exactly right," the president confirmed. "We will reduce the cool factor of any tattoo. Michelle and I will be right there and we'll post it so that everybody will be able to see it and we'll say we all got matching tattoos. I suspect that would be a pretty good deterrent for both Malia and Sasha."
DeGeneres then admitted, "I hate to say it, but I hope they get tattoos. I really do."
"Ellen, you should be a part of this," Barack offered. "You should pledge to also get a tattoo with us."
The 56-year-old "Finding Dory" voiceover actress wasn't too keen on that idea. "If that happens I will, but other than that, I'm not into tattoos," DeGeneres explained. "I'm not gonna do that."
Copyright E! Online