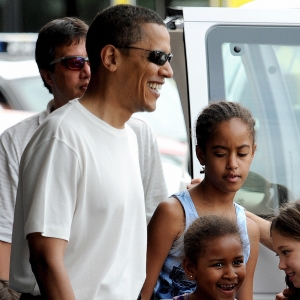 President Barack Obama is embracing a slew of new forms of communication and media and at one of his most recent ventures – a White House town hall meeting conducted on the Internet – he offered a candid insight into the hurdles the Obama family overcame.

During Thursday's White House Internet town hall meeting, the President recounted the family's fight for the life of daughter Sasha when she was just three-months-old. The President revealed that Sasha, now 7, was hospitalized with life-threatening meningitis just a few months after she was born.

"Very dangerous," the President told a nurse in the audience about Sasha, whom he called "our precious little pea."

"The doctors did a terrific job," he continued. "But frankly, it was the nurses that were there with us when she had to get a spinal tap, and all sorts of things that were just bringing me to tears."

VIEW THE PHOTOS: The Obama Family
Fortunately, Sasha recovered from the meningitis with the aid of her nurses – something the President said he'll never forget.

"I'm biased toward nurses," he said. "I just like nurses."

See President Obama's White House Internet town-hall meeting, HERE!
Related Content from AccessHollywood.com:
VIEW THE PHOTOS: First Pets: Animals That Have Raised The White House Woof!
PLAY IT NOW: Did Simon Cowell Decline Dinner With President Obama? (March 23, 2009)
PLAY IT NOW: Garth Brooks Talks Sharing 'Tonight Show' Stage With Obama

MORE ACCESS ON THESE TOPICS: Barack Obama - Health Scares - Media - NBC - Politics

Copyright NBCAH - Access Hollywood