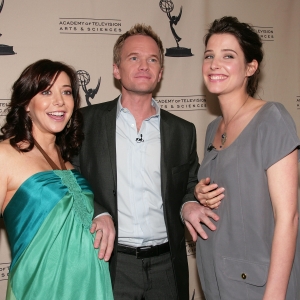 Primetime TV is in bloom this season – quite literally.
At least ten women from primetime series including "Ugly Betty," "How I Met Your Mother," "Grey's Anatomy," "ER" and "Gossip Girl," are all expecting bundles of joy, but in most cases, you wouldn't know it.
VIEW THE PHOTOS: The Pregnant Ladies Of Primetime
Primetime prop managers are being put to work covering up the blooming baby bumps of stars including Alyson Hannigan and Cobie Smulders from "How I Met Your Mother," Rachel Griffiths from "Brothers and Sisters," Kelly Rutherford from "Gossip Girl," and Chyler Leigh, who plays Meredith Grey's little sister Lexie, on "Grey's Anatomy."
"I've hit the six month mark and I'm totally showing now," Chyler recently told Access Hollywood. "So you'll begin to see me carrying various medical items (charts, notepads, etc.) more often. The oversized scrub top under my normal jacket isn't completely cutting it. I keep wondering when the transition from carrying charts to pushing wheelchairs to pushing gurneys to close up face shots in the OR will happen. I guess the positive is, I'll have really buff arms from all the carrying and pushing of random medical equipment."
VIEW THE PHOTOS: The Latest Star Sightings
Another hospital drama star, Parminder Nagra from "ER," is also using handy medical clothing to disguise her first pregnancy.
"Blue scrubs and lab coats hide quite a lot," she said. "I actually have a pair of my own custom made maternity scrubs courtesy of our wonderful wardrobe department made with stretchy fabric to fit round the 'bump'! The guys at 'ER' have been extremely supportive."
But not every actress who is pregnant can hide under scrubs such as Ana Ortiz, who plays Betty Suarez's sexy older sister, Hilda, on "Ugly Betty."
VIEW THE PHOTOS: Hollywood Moms
"As far as hiding my baby bump, it's not going to be easy," Ana said. "Hilda Suarez is not one for the baggy look. She'll probably be standing behind her salon chair a lot."
And like Parminder, Ana said she was thankful for the support of her crew.
"What's amazing to me is to see these huge guys who are part of the crew for the show, turn into big teddy bears," Ana added. "They take such good care of me. Who knew? Chivalry is not dead after all, at least not on the 'Ugly Betty' set. The subway is a different story."
While she doesn't have to hide her pregnancy, HBO's "The No. 1 Ladies Detective Agency" star Jill Scott, said filming has been tough.
"Working while pregnant is not an easy task especially when working in 100 degree weather in Botswana, Africa — I found out I was pregnant the day before I had a 20+ hours flight down to Africa," she said.
"I was lucky enough that my role in the movie didn't have me running marathons or doing anything that would've caused harm to me or the baby so it didn't affect me much while filming aside from the sickness," Jill added. "As hard and hot as it was I just had to be mindful of that. Luckily also, my character role didn't need me to lose weight especially when it was impossible to do that being pregnant so there was no need to hide my pregnancy."
Related Content from AccessHollywood.com:
PLAY IT NOW: An Evening With The 'How I Met Your Mother' Cast
PLAY IT NOW: Eric Dane Talks Babies & 'Grey's ' Rumors

MORE ACCESS ON THESE TOPICS: Pregnancies - Primetime - Gossip Girl - Ugly Betty - HBO

Copyright NBCAH - Access Hollywood