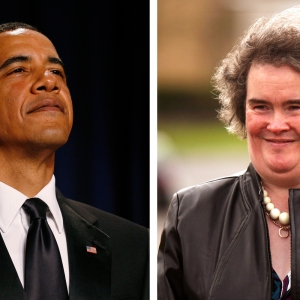 "Britain's Got Talent" sensation Susan Boyle was invited to the White House Correspondent's Dinner, a star-studded event on Saturday night that welcomed such celebs as Ashton Kutcher, Demi Moore, Stephen Spielberg, George Lucas, Kyra Sedgwick and more – but she had to say no.
A rep for the reality competition told Access Hollywood on Sunday that Susan "was invited by numerous networks… to be a guest at the event," but that show rules prevented her from attending.
VIEW THE PHOTOS: Eva, Chace, Demi & More Step Out For The Annual White House Correspondents' Dinner 2009
"None of the acts are allowed to go [overseas] for any events until the show is over so we had to decline on her behalf," the rep said.
Susan was not invited by President Obama himself, the rep added.
VIEW THE PHOTOS: The Brit Pack: Hot Shots Of Stars From The UK!
The $200-a-ticket black-tie event supports the needy and helps fund journalism scholarships.
Susan will, however, appear on "The Oprah Winfrey Show" on Monday – according to the Los Angeles Times, the star will let Oprah's cameras into her home in an episode entitled "The World's Got Talent," which will also feature "Britain's Got Talent" and "American Idol" judge Simon Cowell.
Related Content from AccessHollywood.com:
VIEW THE PHOTOS: Barack Obama

MORE ACCESS ON THESE TOPICS: Barack Obama - Susan Boyle - Britain's Got Talent - Politics - TV One

Copyright NBCAH - Access Hollywood