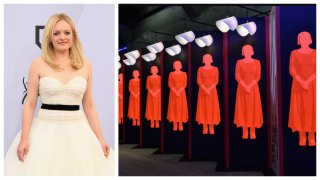 Resistance is the theme as "The Handmaid's Tale" returns this summer with 13 episodes for its third season.
Streaming service Hulu said Monday the dystopian drama will debut three new episodes on Wednesday, June 5. Other episodes will follow on subsequent Wednesdays.
Hulu said this season of "The Handmaid's Tale," starring Elisabeth Moss will focus on her struggle against the repressive regime of Gilead.
Other characters will be forced to take a stand as well, with "blessed be the fight" the guiding prayer for rebels. Hulu also promised "startling reunions" and betrayals in the upcoming season.
The Emmy-winning "The Handmaid's Tale" is based on Margaret Atwood's 1985 novel of the same name. Its cast includes Joseph Fiennes, Yvonne Strahovski, Alexis Bledel, Ann Dowd and Samira Wiley.
Copyright AP - Associated Press