A page on the Republican National Committee's website declared Mike Pence the winner of the vice presidential debate Tuesday — before the match-up even began.
"The consensus was clear after the dust settled, Mike Pence was the clear winner of the debate," read a version of the page saved by Google.
Pence's top moments from the debate, according to the web pages, which have since been taken down? The economy and highlighting Hillary Clinton's scandals.
The other clear winner of the evening was Donald Trump, the GOP declared.
The RNC did not immediately respond to a request for comment about the pages. It was not clear why and for how long the pages were live online.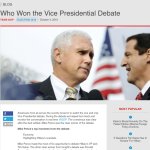 The pages were no longer live by 7:30 p.m. ET and the URLs linked to an error page, featuring a wisecrack about Hillary Clinton.
Other headlines on the site offered more apparent talking points: "It's Clear Who Lost the VP Debate, Hillary Clinton," "5 Questions Tim Kaine was NOT Asked," and "10 Things Voters are Saying About the Debate."
Google periodically saves versions of web pages as a backup in case the page goes down, and keeps the pages accessible to searches. According to NBC News, reporters spotted the web pages on GOP.com on Twitter shortly after 7 p.m., two hours before the debate was to begin.
[NATL] Highlights From the 2016 Campaign Trail