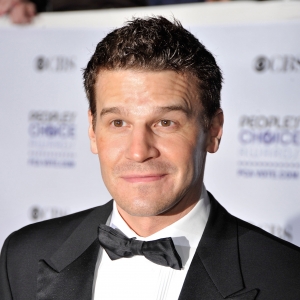 Your Daily Dispatch of Celebrity Shenanigans

Another Baby For "Bones" Star: During a cute anecdote about how he and Jaime Bergman were explaining "the birds and the bees" to their 6-year-old son Jaden Rayne, "Bones" star David Boreanaz let it slip that they're expecting another baby on Wednesday's "Live with Regis & Kelly." "You're aware that mommy and daddy are having a new baby?" he said recounting the conversation with his son. Kelly jumped on the slip, saying, "Did you just say you're having a new baby?" "I said that? Oh I did! Yes, I'm having a new baby," he revealed. Congrats to David and Jaime!

VIEW THE PHOTOS: Hollywood Dads
No One New At Miley's House: In a response to a question we're surprised was asked of a 16-year-old, Miley Cyrus told Detroit's "Mojo in the Morning" show on WKQI that she does not plan on moving in with 20-year-old boyfriend, Justin Gaston. "I love him to death… but no…[Justin] is so smart, but just like, everything has to, like, go where it's supposed to go and if it doesn't, I get like really frustrated," the "Hannah Montana" star said when asked if she plans to shack up with Justin. We'd like to think people wouldn't ask her these types questions until she was 18.

Amy Winehouse's Quick Change: Amy Winehouse started out the night looking chic in a pink top and black skirt that she sported for a party in north London, but by the end of the night, the old Amy was seen rearing her tousled beehive head and frumpy duds. The singer was spotted leaving the party at 3:30 AM having ditched her styling clothes for old jeans and a vest – and no coat, Britain's The Daily Mail reported. See Amy's before an after, HERE!

VIEW THE PHOTOS: 'Twilight' Stars Goofing Off!
"Twilight" Off Screen Hook Ups: Can't get enough "Twilight"? And wondering who Robert Pattinson and the rest of the stars from the massively popular vampire movies series are dating? Find out all the dating rumors and confirmed relationships in Access' "Twilight" Off Screen Hook Ups gallery, HERE!

Related Content from AccessHollywood.com:
VIEW THE PHOTOS: She's Just Bein' Miley!
PLAY IT NOW: Miley Cyrus' Prince Charming Revealed
PLAY IT NOW: Access Exclusive: Deleted 'Twilight' Scene: Edward's Bedroom Surprise

MORE ACCESS ON THESE TOPICS: Miley Cyrus - Rumors - Twilight - Movies - TV

Copyright NBCAH - Access Hollywood