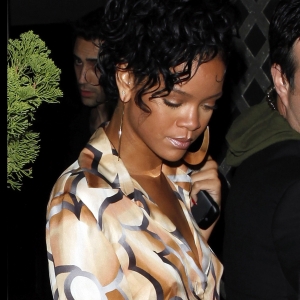 Your Daily Dispatch of Celebrity Shenanigans

Rihanna Celebrates New Single Life?: We don't know definitively if Rihanna and Chris Brown are still dating, but the pop star appears to be enjoying a new chapter in her life, and according to Page Six it started Wednesday night at Nobu in LA. The singer was reportedly spotted "smiling and flirting" with a group of guys that included "Bromance" star Brody Jenner. While Rihanna was enjoying the night, a watchful female security guard kept a close eye on her. "Every time Rihanna would go to the bathroom, the guard would go with her. Every time someone came to the table, the bodyguard would stand up. She was like a female James Bond," a source told the paper. Adding, "She looked relaxed and happy, like Chris Brown was totally in the past."

VIEW THE PHOTOS: Rihanna: Music's Style Superstar
Rihanna & Brody's Best Bro Bond: Rihanna's reinvention tour continued Thursday night at LA's Delux. According to RadarOnline, Rihanna and Brody Jenner's (see above!) reality star wingman Frankie Delgado were reportedly getting cozy. "Rihanna was all over Frankie Delgado!" "She was snuggling with him on her couch and the two were all about each other," a source claimed. "Rihanna gave Frankie a lap type dance when Destiny's Child's song 'Bug-A-Boo' started playing. [She] looked like she was having a blast." We're not convinced that Frankie is the best person for RiRi to let under her umbrella, but at least she appears to have moved on.

John Mayer - Not A Twitter Slave: Speaking of the newly single, John Mayer told Access Hollywood Thursday night at the "One Splendid Evening" benefiting VH1's Save The Music Foundation that despite reports of Twitter ending his relationship with Jennifer Aniston and his constant updates on the micro-blogging Web site, that he's not a Twitter addict. "What is this thing about me being addicted to Twitter?" John told Access. "I Twitter as much as anyone else does." Six minutes before our interview with John, he updated his Twitter account. We're not saying we need to hold a Twitter-vention for the singer, but we wonder if he could abstain for 24 hours? Oh heck, we can't either!
VIEW THE PHOTOS: The Apatow Gang — Ferrell, Rogen & The Rest
Yet Another "Hills" Spat: After Audrina Patridge jumped "The Hills" ship to work with "Survivor" producer Mark Burnett, tension was high among the reality show cast and crew – and this wasn't scripted tension according to The New York Post's Page Six. During a recent "Hills" photo shoot, "Hills" executive producer Adam DiVello "completely lost his cool and was anything but professional" according to a Page Six source. "DiVello went on a tirade, cursing her in front of other cast and crew." MTV declined to comment on the alleged tirade, but we're hoping the cameras were rolling.
Good Early Reviews For "Land Of The Lost": Nobody has seen the final product of Will Ferrell's highly anticipated big screen version of the "Land Of The Lost" Sid & Marty Krofft TV show, but Universal did start test screening portions for select fans in San Diego recently. Three readers reported back from La Jolla Village to the Web site AintItCoolNews.com, and all of them basically gave the proverbial 'Thumbs Up.' One even wrote that it was, "the most genius HILARIOUS flick I've seen in years," and that it had him, "p---ing my pants!!!"
Related Content from AccessHollywood.com:
VIEW THE PHOTOS: The Many Looks Of Rocker & Upcoming Variety Show Host John Mayer
PLAY IT NOW: T.G.I.F. Another Tattoo For Rihanna? (March 26, 2009)
PLAY IT NOW: Preview: 'The Hills' Season 5

MORE ACCESS ON THESE TOPICS: The Hills - Will Ferrell - Rihanna - Chris Brown - John Mayer

Copyright NBCAH - Access Hollywood