Three San Jose police officers shot at and wounded a man who they say opened fire on them and struck a patrol car early Saturday morning.
The suspect, identified as Steven Pedroza, 24, of San Jose, will be booked into the Santa Clara County Main Jail on three counts of attempted murder of a police officer and unlawful discharge of a firearm, police said in a news release.
According to the the San Jose Police Department, officers at 3:23 a.m. arrived at a 7-Eleven at 1430 Fruitdale Avenue on a report of Pedroza confronting people outside the shop and firing a gun in their direction.
Three officers located the suspect vehicle — a black Ford Mustang — leaving the scene with two occupants. Pedroza was driving and an unidentified woman was in the passenger seat, police said.
The officers began a high risk stop, as it is called, before the car stopped outside a Subway restaurant at Meridian and Fruitdale avenues, police said.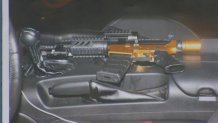 Speaking at a news conference, San Jose police Chief Eddie Garcia said Pedraza leaned out of the driver's side window and shot at the officers. The suspect "produced a high-powered AR-15 rifle" with which he hit a patrol car, prompting officers to return fire, he said.
Pedraza was struck by a bullet at least once, police said and was transported to an area hospital with injuries that are not considered life threatening, police said.
Garcia deemed the exchange "very intense" and said the Mustang was surrounded by bullet casings. Pedraza shot "quite a few rounds at our officers," he said.
"I can't state enough the bravery and heroism of the officers this morning," Garcia said. "It epitomizes the best of what the San Jose Police Department has and ... they proved to this community once again that they're here for them."
The passenger was arrested, questioned and then released, according to police.
No officers were injured in the incident, and police said they have all been placed on paid administrative leave as is the department's policy.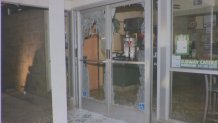 According to Garcia, the department was "wiped out" prior to the officer-involved shooting because most of the on-duty officers were busy with a homicide investigation on Tully Road.
The officers who responded to Pedraza demonstrated "very good judgement" and were "wise enough" to stick together, he said.
"The fact that they were together and responded together, very likely led to no officers being hurt," Garcia said. "We're very fortunate that we didn't lose an officer last night."
The shooting is being investigated by the San Jose Police Department's Internal Affairs Unit, the Office of the Independent Police Auditor for the city of San Jose, and the Santa Clara County District Attorney's Office, police said.
People with information are asked to call Detective Sergeant Raul Martinez or Detective Jorge Santiago of the San Jose Police Department's Homicide Unit at (408) 277-5283.
People can submit anonymous tips at (408) 947-7867. Anyone who provides information that leads to the arrest and conviction of Pedraza may be eligible for a cash reward from the Silicon Valley Crime Stoppers.
Copyright BAYCN - Bay City News