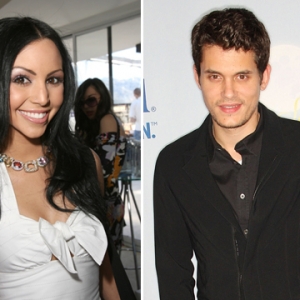 With rumors swirling that she's dating John Mayer, waitress/actress Scheana Marie told YoungHollywood.com that she's not the singer's girlfriend – but they're spending time together.
"He's a really funny guy, he has an amazing personality," Scheana, who stars as a pizza delivery girl in an upcoming episode of the Jonas Brothers' Disney show, "JONAS," said. "[But] he's not my boyfriend. We're hanging out. However you want to take that."
VIEW THE PHOTOS: The Many Looks Of Rocker John Mayer
"We have a good time," she added.
Scheana told the site that she met him while working at the Grand Havana Room in 2008, when John celebrated his birthday with then-girlfriend Jennifer Aniston. After their split, Scheana claims they reconnected.
"He came back into the club a couple months ago, [he and Jennifer] had broken up," she said.
But according to E! Online, Scheana may be speaking out of turn.
"They're no longer in contact," a Mayer source told the site. "She's been exaggerating her interactions with him."
VIEW THE PHOTOS: Celebrity Brunettes
The source also reported that the two had stopped talking before her interview with YoungHollywood.com.
"He goes on dates and he's looking for love like everybody else," the source added. "But he and Scheana are not in contact at all."
Related Content from AccessHollywood.com:
PLAY IT NOW: Stars Come Out To Help John Mayer Save The Music
PLAY IT NOW: John Mayer Needs His Conan

MORE ACCESS ON THESE TOPICS: John Mayer - Celebrities - Music

Copyright NBCAH - Access Hollywood