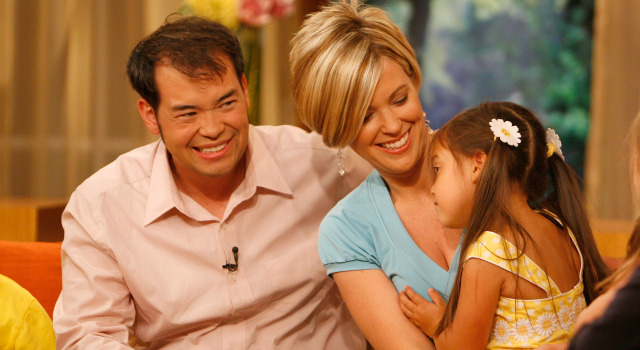 While Jon and Kate Gosselin, stars of TLC's reality show "Jon & Kate Plus 8," put up a united front for their sextuplets' fifth birthday party May 17, the family's neighbors were dishing to reporters about the state of the Gosselin union.
Sheilah Jones lives near the Gosselins' Pennsylvania home, and says that the couple, who are dealing with the aftershocks of cheating allegations, are staying together only for the generous paychecks that come from doing the show.
"I would say they're definitely only staying together for the money," Jones told Life & Style. "A lot of people around town say that's what their relationship has been about for a while. People think the two of them — Kate especially — are in it for the publicity and money."
The show reportedly pays upwards of $25,000 per episode, and the new season is set to premiere on TLC May 25.
The network just sent out screeners of season premieres of its shows, and "Jon & Kate Plus 8" was not among them. Thanks to the family scandal, producers were left reworking the first episode to accommodate.
Suleman getting closer to reality show deal
Octuplet mom Nadya Suleman is getting closer to signing off on her reality show deal.
About a dozen production companies were interested in chronicling her story, according to her lawyer Jeff Czech.
"We are close to closing a deal," Czech told Us Weekly. "It could be a 60-minute documentary, or maybe a pilot for a series."
One stipulation being worked out is Suleman's desire to keep cameras at a minimum. "She doesn't want cameras everywhere." And it turns out the mom of 14 also has some behind-the-lens aspirations. "She'd also like to do some of the filming," Czech told the magazine.
Jessica Alba, another beauty victim
Like Miss California before her, Jessica Alba is trapped beneath the crushing weight of her beauty.
The actress tells Allure magazine that being beautiful "really is a problem. I have to be blunt. If you don't like the audition, then don't hire me. But if you don't even want to see me (because of her beauty), that's hurtful."
Watch this, read that
In honor of summer beginning this weekend, I'm starting a new Wednesday feature to help you while away your long weekend. "Watch this, read that" will offer up suggestions about what to bookmark, record, rent, etc. during the slow summer months.
First up: Take a few minutes to watch this video from the Enough Project. Their campaign to raise awareness of conflict metals — tin, tungsten, tantalum — in the Congo features Marie Louise Parker, Sandra Oh, Jeffrey Dean Morgan.
Read Stephen King's "7 Great Books for Summer" list. Even if you've already bought or Kindled your Memorial Day reading, the idea of Stephen King coming up with beach reading is pleasantly incongruous.
Courtney Hazlett delivers the Scoop Monday through Friday on msnbc.com. Follow Scoop on Twitter: @ courtneyatmsnbc.
Copyright MSNBC - MSNBC