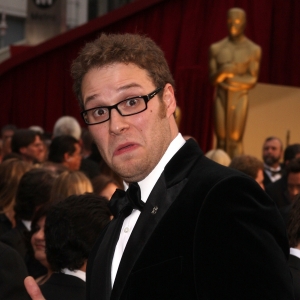 In becoming the ninth man to ever grace the cover of Playboy – and the first in the last decade – Seth Rogen is hoping to become a trendsetter for other guys who look like the comedian.
"Woody Allen created a look for small, nebbishy Jews, and I'm doing the same for chubby Jewish guys," Seth jokes in the April issue of Playboy, on newsstands April 10. "I created a new look for rotund Jews. I have seen more guys lately who kind of look like me. It's an easily attainable look."
VIEW THE PHOTOS: Hollywood Hijinks With Funnyman Seth Rogen
But Seth has gone to great lengths to change that "chubby" figure, and as he told Playboy the location of his new movie, "Observe and Report," played a large part in his dramatic weight loss.
"We shot the movie in Albuquerque, which is at a very high altitude. I'm somebody who can barely breathe in Los Angeles, which is at sea level," Seth told Playboy. "There were some big action scenes. Every day it felt as if I were climbing Everest."
VIEW THE PHOTOS: The Apatow Gang — Ferrell, Rogen & The Rest
And while Seth is proud of his slimmer physique, the comedian isn't quite ready to let it all hang out on the big screen like some of his Judd Apatow gang counterparts.
"It would have to be funny. I'm a very serious actor when it comes to nudity," he noted. "I'm like Meryl Streep."
Nudity or not, Seth is grateful for his new found superstardom and said if it wasn't for acting, his profession of choice might not be so lucrative.
"What would I be doing if I weren't an actor? Working in a video store or a comic-book store is the only thing I could possibly enjoy as much. I'd be one of those guys you look at and say, 'What the f**k is wrong with him?… Why doesn't he get out and do something with his life?'" Seth said. "I would definitely be that guy. Maybe I'd do a combo: a video-game-and-comic-book store. Yeah, that would be cool. That's definitely what I should do if I crap out in movies. You know, that sounds so good it's almost worth quitting for."
Related Content from AccessHollywood.com:
PLAY IT NOW: Behind The Scenes: Seth Rogen's Playboy Cover Shoot
PLAY IT NOW: Seth Rogen & Elizabeth Banks Talk 'Zack And Miri Make A Porno'

MORE ACCESS ON THESE TOPICS: Seth Rogen - Playboy - Movies - Comedians

Copyright NBCAH - Access Hollywood