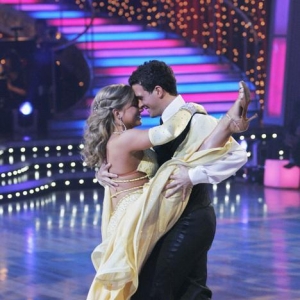 "Dancing With the Stars" kicked off its eighth season on Monday night and two contenders showed they may already be poised for the top.
Olympic gymnast Shawn Johnson, at 16, the youngest competitor ever on "DWTS," quickly stepped out as a front runner, scoring 23 out of 30 points in her first dance with partner Mark Ballas.
VIEW THE PHOTOS: 'Dancing With The Stars' Season 8 Cast Revealed!
The two took on the waltz and the teen showed off smooth arm lines and fancy footing that impressed the judges.
"I was truly moved," a close-to-tears judge Carrie Ann Inaba said after the pair's first dance. "You have the power to move people with your dancing… You're very dynamic when you perform, Shawn."
VIEW THE PHOTOS: Keepin' It Real With TV's Hottest Reality Stars!
But it was a non-athlete who took home the evening's highest score during the season opener – "Sex and the City's" man-candy, Gilles Marini.
The French actor who played Dante, the sexy naked neighbor to Kim Cattrall's Samantha on "Sex and the City," hit the dance floor with partner Cheryl Burke and pulled the kind of score not usually seen in competition until much later in competition – a 24 out of 30.
Their steamy cha-cha almost left Carrie Ann Inaba with a loss for words as she screamed, "I loved it!" following their routine.
VIEW THE PHOTOS: Inside Nancy O'Dell's 'Dancing With The Stars' Rehearsal
And the saucy dance moves even won over notoriously tough judge, Len Goodman.
"I thought Gilles, you pulled it off tonight," Len said. "It was absolutely fabulous."
Access Hollywood's own Nancy O'Dell had a front row seat for the action, which she watched alongside Jewel as both women were forced to leave competition due to injuries.
"I'm a little jealous, I must admit," Nancy told "Dancing" host Tom Bergeron, as he interviewed her during the show. "I'm disappointed. I'm competitive. I played sports all my life."
But with Nancy cheering her on, the woman who filled the vacant dance floor card left by Nancy's injury, stepped up to the plate in top form.
Melissa Rycroft, who was recently jilted by "Bachelor" Jason Mesnick, joined Nancy's former partner, Tony Dovolani, on the dance floor. The two waltzed their way into a standing ovation from Nancy and kudos from judge Bruno Tonioli.
"I don't know that 'Bachelor' guy, but he's a loser," Bruno said as the judges gave them a 23/30. "You are a revelation… It's like watching a beautiful bird about to take flight."
Related Content from AccessHollywood.com:
PLAY IT NOW: 'Bachelor' Star Melissa Rycroft Joining 'Dancing'
PLAY IT NOW: Injury Forces Jewel Out Of 'Dancing With The Stars'

MORE ACCESS ON THESE TOPICS: Dancing With the Stars - Nancy O'Dell - Kim Cattrall - Jewel - Sex And The City

Copyright NBCAH - Access Hollywood