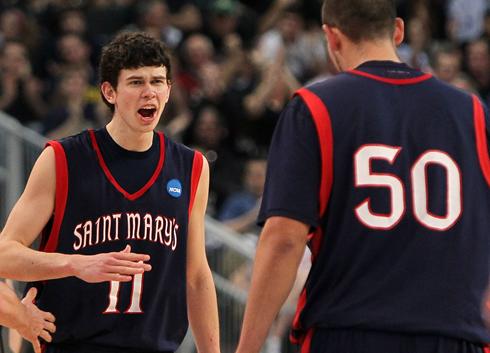 Omar Samhan was an unstoppable Gael force.
His career isn't over yet - and neither is Saint Mary's NCAA tournament run as the Gaels are improbably headed to the round of 16.
Samhan played the game of his career on basketball's biggest stage, finishing with 32 points and seven rebounds to lead 10th-seeded Saint Mary's past Villanova 75-68 on Saturday and on to Houston for the South Regional's Sweet 16.
Mickey McConnell stopped and fired an arcing 25-footer that banked high off the glass to give Saint Mary's a 68-65 lead with 1:15 left.
Samhan used a two-handed block to turn back Reggie Redding and McConnell made both ends of a 1-and-1 to make it 70-65.
The soldout crowd was well behind the Gaels (28-5). Saint Mary's will play Old Dominion or Baylor on Thursday.
Samhan stopped when he saw a familiar face near the locker room and shouted, ''Did it really happen? We won? For real?''
The Wildcats (25-8) made an early exit a year after they played in the Final Four. They started 20-1 and collapsed at the end.
Scottie Reynolds , who put Villanova in the Final Four last season with a last-second basket against Pittsburgh, was a big reason why the Wildcats are heading home early. He missed 9 of 11 shots and scored eight points after a dud game in the tournament opener. He missed 13 of 15 against Robert Morris for a forgettable end to an otherwise stellar career.
Tears streamed from Reynolds' eyes, his lips trembled as he tried to put the loss and his career in perspective.
"'There's no shame in losing,'' Reynolds said. ''We came up against a great opponent in a Saint Mary's team who just had our number. We're going to hold our heads up high.''
It was Saint Mary's time to go crazy.
The Gaels danced around for the crowd in celebration. Samhan mugged for the fans and tossed a loose ball in the air. He high-fived a ball boy and they embraced for the biggest win in the program's history.
Samhan, a 6-foot-11, 260-pound center, played perhaps the best all-around game of anyone in the tournament so far. His 32 points where one shy of his career high and he made 13 of 16 shots. He'll have plenty to write and videotape for his blog
.''Omar's a beast,'' Saint Mary's forward Clint Steindl said.
He frustrated the Wildcats until late in the second half.
That's when the Wildcats started doing what they do best - run and score on the fastbreak. They rallied from a seven-point halftime deficit with their transition game to tie the score at 51 on Maalik Wayns ' perfect pass through the defense to Antonio Pena for a layup. Pena made a free throw for the tie, and Corey Fisher followed with a basket the next time down for a 53-51 Villanova lead.
Neither team gave much the rest of the way.
Saint Mary's took a three-point lead when - bam! - the slumping Reynolds nailed his first 3-pointer of the game.
Matthew Dellavedova made an acrobatic play as he dribbled, tripped, retained his dribble, spun around Fisher and hit a 3. Wayns - the Philly freshman seemingly built with a turbo-charged engine - sped to the basket for a layup and sliced it to 64-63 with 3:29 left.
The score was frozen until Steindl made one of two free throws to make it 65-63. Wayns tied it on two free throws.
That's when McConnell fired one that was felt from America to Australia - the Gaels boast four Aussies on their roster - and had the Gaels pointed toward the Sweet 16.
The only time the Gaels advanced past the first round in the NCAA tournament was 1959 when there were only 23 teams in the field. They beat Idaho State to advance to the Elite Eight.
McConnell finished with 15 points and Dellavedova had 14.
The Gaels held each of Villanova's top three scores to under double figures. Fisher and Antonio Pena both scored nine points to join Reynolds as a trio of underachievers. Corey Stokes led the Wildcats with 15 points.
Copyright AP - Associated Press