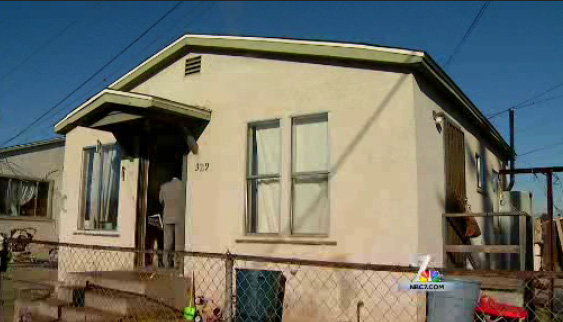 A 2-year-old girl died Monday after a television fell on top of her at a home in San Diego's Stockton neighborhood, according to officials.
The incident occurred around 11 a.m. in the 300-block of 32nd Street, according to officials with the San Diego Fire-Rescue Department.
Forensic investigators at the scene took a light-weight wicker chest of drawers full of clothes from the home's living room. The chest reportedly held a 35-inch, 50 to 60 pound TV on top of it.
According to the toddler's relatives, the Estrada family, the toddler had just gotten out of the bath and was sent alone to get some clothing out of the wicker chest.
At that moment, other people in the home heard a devastating crash.
Family members said they ran into the room and discovered the infant's head had been crushed by the TV set, which had fallen on top of her.
The girl -- identified Tuesday by the San Diego County Medical Examiner's Office as Annette Estrada -- was rendered unconscious and was taken to UCSD Medical Center.
Annette succumbed to her injuries shortly thereafter, officials said.
The toddler's aunt, who wished to be identified only as Christina, was one of four adults in the home at the time of the deadly incident.
"I had to hold her in my arms, she's my niece," Christina told NBC 7 San Diego. "She loved everybody. If she just met you she would be smiling at you and say 'Hi.'"
Little Annette's family said the girl was about to turn three years old. The ME cites the toddler's birthdate at December 21, 2010.
Authorities have launched an investigation into potential child abuse and neglect in the home, but said the incident appears to be a complete accident.
"Unfortunately it was the perfect storm," said Lt. Mark Bennet of the San Diego Police Department. "This was a large, old-style C.R.T. television set, so they are very front heavy by themselves."
In California, the law requires that some household appliances have safety fasteners, but the television present in the Estrada home was not one of those listed.
Christina said her family's story should serve a stark warning to other parents and guardians.
"Make sure you have everything safe for your kids," Christina said. "You don't know when they could be taken away."