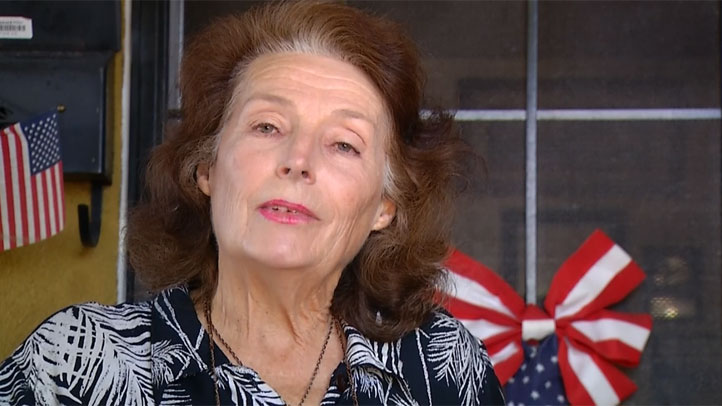 A San Diego woman has refused to remove her handwritten sign seeking donations of new or used sex toys for embattled Mayor Bob Filner.
"Save the women of S.D. Donate your new + gentley [sic] used sex toys to Filner," reads the sign posted by Valorie Matthews of Allied Gardens on her petition table in front of a grocery store.
Matthews has been collecting signatures as part of the effort to recall Mayor Filner.
U.S. & World
Filner, who has been in mediation with city leaders this week, has been accused of sexual harassment by a former employee, operating "pay to play" schemes involving developers and misusing his city-issued credit card.
More than a dozen women have also spoken publicly about unwanted sexual advances they experienced when meeting Bob Filner at public events or private meetings while he was mayor and congressman.
Matthews has been sitting outside the Albertsons grocery store on Waring and Zion every day since the recall effort kicked off on Sunday.
Her petition stand includes a bucket that reads "Sex Toys for Filner."
On Tuesday, Matthews was told to stop by Albertsons' corporate attorney.
When NBC 7 News contacted the store, they offered this statement:
"Ms. Matthews has also chosen to put a sign that has an adult theme which is not appropriate for children or our family-friendly environment. We've explained to Ms. Matthews that she can continue to collect petition signatures at our stores if she removes the sign. Unfortunately, she has refused."
Interactive Timeline: Mayor Under Fire
"This is the United States of America. I can say anything I want, anywhere I want to anyone I want," Matthews said.
Matthews told NBC 7 she plans on returning Wednesday, signs and all. She also claims she'll go to jail if necessary.
"I'm the rarest of all women," Matthews said. "I have a mouth, a brain to back it up and the guts to use both."
She described herself as a little old lady who's surviving on Social Security who is hoping to get a good lawyer to offer services pro bono.
So far Matthews has collected 300 signatures for the "Recall Bob Filner" campaign and zero sex toys.