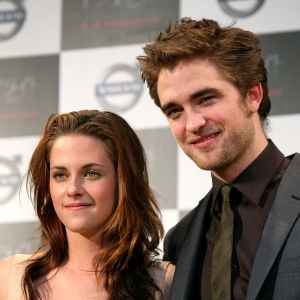 Summit Entertainment is still considering directors for "Eclipse," the third film in the "Twilight" saga, the studio told Access Hollywood on Friday.
More conflicting reports arose this week over the crowded directorial field, on Wednesday when Variety reported that Spanish director Juan Antonio Bayona would helm the film. Bayona is a protege of "Hellboy 2" director Guillermo Del Toro, who produced his horror film, "The Orphanage." Earlier reports had attached Drew Barrymore and Paul Weitz, brother of "Twilight" sequel "New Moon" director Chris, to the project.
VIEW THE PHOTOS: 'Twilight' Stars' Off Screen Hook Ups
However, on Thursday, the Los Angeles Times reported that Summit was still in the market for directors.
"We've met with three or four talented filmmakers and we'll be meeting with three or four more other candidates before we make any decision. No one has been offered the job," Erik Feig, president of production for the studio, was quoted as saying.
VIEW THE PHOTOS: 'Twilight's' 'New Moon' Cast - Who's In The Mix?
But on Friday, Nikki Finke of Deadline Hollywood Daily – who broke the Bayona news – reported that Feig had apologized to her and accused the Times of "misquoting" him. Finke wrote that she stood by her story, that "Summit Entertainment is telling Hollywood privately that Juan Antonio Bayona will direct 'Eclipse.'"
The studio told Access on Friday that several filmmakers were still being looked at for the job.
"Eclipse" is scheduled for a June 30, 2010 release date, hot on the heels of the expected November 20, 2009 release of "New Moon."
Related Content from AccessHollywood.com:
VIEW THE PHOTOS: Robert Pattinson- Hollywood's Hottest Vampire!
PLAY IT NOW: Access Search Engine: 'Twilight' Girls Show Love For Taylor Lautner (March 10, 2009)
PLAY IT NOW: Access Exclusive: Deleted 'Twilight' Scene: Edward's Bedroom Surprise

MORE ACCESS ON THESE TOPICS: Twilight - Movies - Casting Call - Celebrities

Copyright NBCAH - Access Hollywood