A man believed to be connected by DNA to the 1974 cold case of a woman slain inside a chuch on the campus of Stanford University allegedly shot and killed himself at a San Jose apartment complex Thursday as authorities arrived to serve a warrant, Santa Clara County Sheriff Laurie Smith said.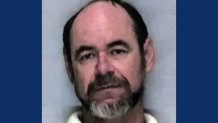 At around 9:05 a.m., deputies made verbal contact at a closed front door with an occupant in the apartment near Merrill Drive and Camden Avenue. As deputies made entry, they observed a man with a handgun, and the deputies immediately backed away, according to San Jose police.
A short time later, a gunshot was heard. Deputies eventually re-entered the residence and discovered a man, later identified as Steve Crawford, with an apparent self-inflicted gunshot wound. He was pronounced dead at the scene, police said.
Sheriff's detectives believe Crawford was connected to the slaying of Arlis Perry, 19, who was found dead and naked from the waist down at Stanford Memorial Church on Oct. 13, 1974.
"It was an extremely brutal homicide in a church at Stanford," Smith said.
Crawford was the security guard who found Perry with an ice pick in the back of her head, several candles near and on her body. Police collected DNA samples from semen found at the scene, the Stanford Daily reported.
Smith said the department's homicide unit has been working the case "actively" since it occurred.
At the time of her death, Perry had just moved from North Dakota to the Bay Area to be with her husband, Bruce Perry, who was attending Stanford, according to a book "The Ultimate Evil" by journalist Maury Terry.
Detectives were able to get DNA evidence retested, and authorities received more information, which led them to Crawford at the San Jose apartment complex, Smith said.
No officers were involved in the shooting Thursday, Smith said.
Stanford University released a statement later Thursday.
"We extend our gratitude to local law enforcement for their efforts over decades to try to resolve this disturbing case. It remains a heart-wrenching memory at the university. Stanford has been cooperating with investigators over many years, and we know they've been working tirelessly to try to bring this case to a conclusion."
The Santa Clara County District Attorney's Office and the San Jose Police Department's Homicide Unit are conducting a joint criminal investigation, police said.