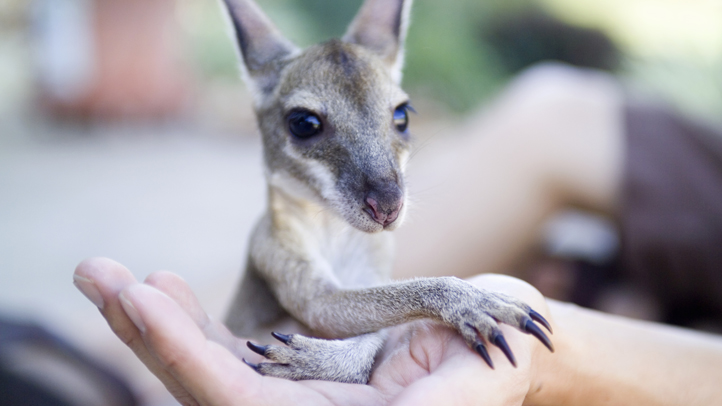 A Texas couple is fighting to keep their daughter's beloved companion — a 6-month-old, 10-pound kangaroo named Mike.
Jeni and Nick Dreis are creating a wildlife preserve, organic farm and education center in Conroe, Texas to serve special needs children, the Houston Chronicle reported. The center will offer academic and life skills classes, vocational training and social programs geared to people with special needs, including the Dreis' daughter, Kayla, who has Down's syndrome.
"I like to snuggle with him," Kayla Dreis, 16, said of Mike. "He's silly. And he loves me."
U.S. & World
The kangaroo will live at the center's wildlife park once he grows larger, Jeni Dreis told the Texas paper.
That can't come soon enough for the neighborhood homeowners association, which sent the Dreis family a letter saying the non-domestic pet puts them in violation of deed restrictions.
"Please immediately remove the kangaroo from your property as it is not a household pet nor can it be maintained for any business purposes," the Estate of Legends Ranch Homeowners Association wrote in a Feb. 20 letter. "You are asked to correct the violation immediately."
But Jeni Dreis said the family is sticking to its plan to move Mike to the park in about a year.
Nick Dreis said the group's letter "goes a little too far."
"They haven't taken the time to really get the details," he said. "The animal is only out in the yard for a few minutes a day, and he's behind a 5-foot fence. He's basically an indoor pet, like a dog or cat."
Dr. Todd Westin, a Beaumont veterinarian who sold Mike to the Dreises, said the objections were unreasonable because Mike is about to be neutered, is still young and will be in the house for a brief time.
"If the homeowner association is raising hell about them having a baby kangaroo, then it's pure stupidity," Westin said.