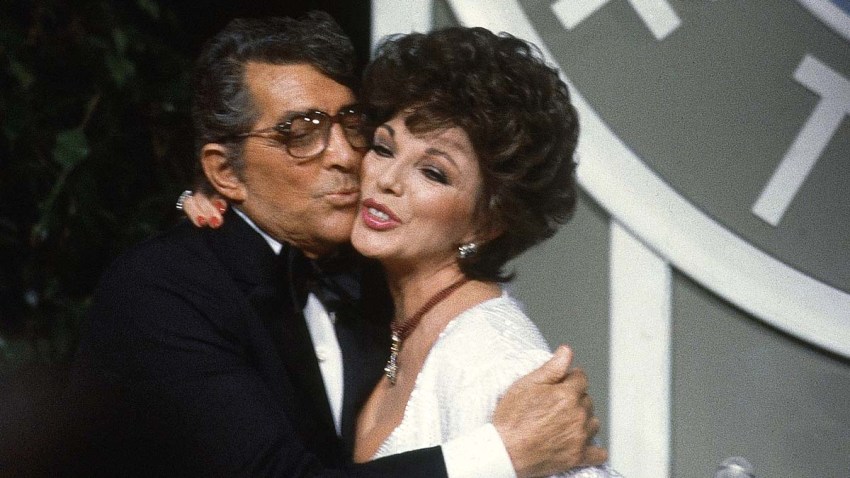 The only thing thicker in the air than the cigarette smoke and packing a bigger kick than the cocktails were the insults. "The Dean Martin Celebrity Roasts" celebrated the art of the put-down, but have built up a beloved legacy of laughter.

In 1973 the producers of "The Dean Martin Show" brainstormed a segment to give the titular Rat Packer's long-running NBC variety series a ratings bump during its ninth and final season, inviting a panel of Martin's celebrity pals to playfully lambaste a "Man of the Hour." The show's inaugural honoree/victim was former Hollywood actor-turned-then-California governor and future U.S. president Ronald Reagan.
The format was inspired by the annual tradition of "roasts" held at the New York Friars Club since the early 1950s, in which members were affectionately shredded to ribbons in bawdy – and sometimes downright vulgar – style.
That final season had Martin – among the most popular and successful entertainers of the day, between recording, television and film acting careers – and his cronies skewering a slew of big-name guests: Kirk Douglas, Bette Davis, Hugh Hefner, Johnny Carson, Jack Benny, Truman Capote, Barry Goldwater, Joe Namath, Wilt Chamberlain, Hank Aaron and Zsa Zsa Gabor were among the initial roast-ees, scorched by an equally starry assortment of comedians including Bob Newhart, Phyllis Diller, Jonathan Winters, Rich Little, Nipsey Russell, Red Buttons, Dom Deluise, Ruth Buzzi, Foster Brooks and the master of verbal evisceration, Don Rickles.
The Roasts proved so popular that NBC contracted Martin and his team to produce a series of Roast specials that would ultimately endure on the network for a full decade, quickly moving from a studio in Burbank to a live location shoot at the MGM Grand Hotel's Zeigfield Room in Martin's frequent professional stomping ground, Las Vegas. Even more A-listers were feted – including Bob Hope, Lucille Ball, Jimmy Stewart, Orson Welles, Betty White, Muhammed Ali, Evel Knievel, Martin's close "pallies" Sammy Davis. Jr. and Frank Sinatra, as well as Dino himself – through 1984.
Four decades later Martin's celebrity roasts have remained so fondly recalled that all 54 installments are being released in a massive 25-disc DVD collection that comes with several hours of bonus material and a commemorative book (More compact sets are also available).
"My dad had been doing those roasts back at the Friars Club in New York for years," recalls Martin's daughter Deana Martin. "The tradition of these roasts goes back a long way. It was cool, and it was natural for my dad. It was like a lot of good friends getting together and having a party and making fun of each other in a light-hearted way."
"I did 24 roasts – I was shocked when somebody gave me the statistics!" says veteran impressionist Rich Little, who with Nipsey Russell holds the record for most roast appearances. "The fun part was working with so many of my idols. I mean, Jack Benny and George Burns and John Wayne to name a few, those people who I grew up idolizing. That was one of the biggest joys of my life. The terror was getting up in front of those icons and trying to be funny – it was a bit nerve‑wracking, to tell you the least. I probably aged ten years doing those roasts!"
Part of the fun for the stars was that while many of them created their own comedy material and the Roast writers would craft prepared bits for the non-comedians, there was also a freewheeling spirit of spontaneity – and occasionally anarchy – allowed in the proceedings. "My favorite roast was the Jimmy Stewart roast, because the bit that I did with him we didn't rehearse," explains Little. "There was no script, and I was going to show Jimmy how to impersonate himself – that was the idea. And when he stood up and I showed him how to do him, he figured out that he was going to do it badly! I ended up saying, 'That's the worst Jimmy Stewart I've ever heard in my life!'"
"Dean loved them because he didn't have to rehearse," remembers Little – indeed, the Roasts played into Martin's signature style of offhandedly winging it through bits others had rehearsed. "He didn't even know who they were roasting two minutes before we shot the show. I can remember one roast, we were walking to the dais from the green room where everybody is assembled, the audience was packed and we were getting ready to shoot the show. Dean was walking beside me and said, 'Who are we honoring tonight? Who's the guest of honor?' I said, 'You've got to be kidding me! You don't even know who we're roasting?' He said, 'No, I could care less. Who is it?' I said, 'It's Michael Landon.' He said 'Ooh, I like 'Michael Landon! We're going to have fun with that.'"
"For my dad not to know what was coming, what the lines were going to be, and to hear him respond to them and see him sometimes laughing so hard he was crying, it was so perfect for him," agrees Deana Martin. "It's mind-boggling to me that they were able to get this group of people together at one time to put on a show, have everybody go to Las Vegas because everybody wanted to be with Dean Martin. And of course, they're all having fun up on stage, and the audience is just living that moment with all of them."