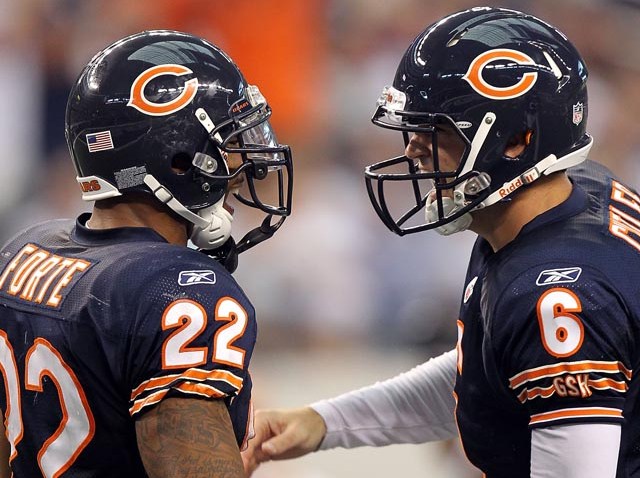 We're only in Week 2 of this NFL season, but it's still something of a surprise to see Jay Cutler, of all people, leading the league in passer rating. Sure, Cutler was expected to put up some yards under new coordinator Mike Martz. But those yards were supposed to come at the expense of four zillion interceptions.

Instead, Cutler has led to the Bears to a 2-0 record, throwing five touchdowns to just one pick. And if he keeps it up, his will be among the more unlikely revivals of this NFL season.

Few NFL players have had the kind of bizarre public relations ups and downs of Cutler. When he was drafted by Denver in 2006, no one thought of him as a malcontent, if they thought of him at all. He soon developed into one of the most promising quarterbacks in football, and there was no reason to think he'd do anything to derail his career.

Obviously, you know what happened after that. Mike Shanahan got canned, Cutler sulked, then got himself traded to Chicago. And I know I wasn't alone in thinking at the time that yes, Cutler seemed like a real ass, but Denver was idiotic for trading away such a gifted passer at such a young age. There was this idea that Cutler the person was flawed, but that his game was not.

Then last year happened and Cutler seemed to do everything in his power to justify the Broncos decision to send him packing. He ranked 21st in efficiency and threw 26 picks, far more than anyone else in football. He had a small feud with Brian Urlacher and generally appeared to be the surliest young millionaire in America. His game now seemed as damaged as his reputation, and the prevailing thought going into this year was that Cutler would again be a turnover machine. His destruction seemed all but complete. He was damaged goods, and the Bears would never get the passer they hoped they were trading for. Few, if any, people thought before this season that Cutler would rebound and fulfill the hope Chicago had for him the day Denver traded him away.

But suddenly, there are signs that Cutler is ready to carry the Bears on his shoulders. He did a magnificent job evading the Cowboys rush on Sunday, and he appears truly revitalized in Martz's scheme. The question is, can he keep it up? Is this for real, or will Cutler revert back to last year's form?

I don't ever buy stories about athletes changing who they are and becoming good guys after years of burning bridges. That's SI puff piece stuff that is almost always disproven within months of publication. I don't think Cutler is a nicer or better person this year. But you don't have to be a good guy to play better. I think last year was so awful that we forgot that, given the right tools, Cutler can be a very effective quarterback. He certainly has been thus far, and that's why the Bears are very much for real.