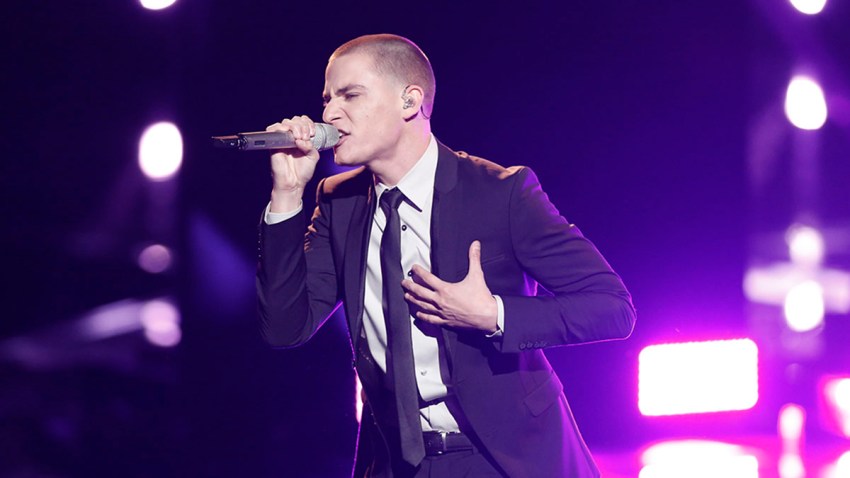 The top 12 contestants on "The Voice" hit the stage to prove their vocal prowess, some with original arrangements to impress the crowd.
R&B singer Sugar Jones started the night off with a modern spin on Al Green's "Take Me to the River," and received a standing ovation from her coach, Pharrell.
Fellow coach Gwen Stefani described her performance as "incredible."
DaNica Shirey, also a member of Team Pharrell, took a risk by choosing to sing her own version of "Creep," by Radiohead. Her dynamic, alternative performance left coach Gwen to call her "a freak of nature," explaining that "it's incredible that that comes out of you."
Team Blake's Jesse Pitts turned "Don't You Worry Child," by Swedish House Mafia, into a soft ballad that started with her playing piano and ended with her standing, belting at the microphone. It was something she noted she's never done before.
Pitts' former coach, Gwen, said she didn't even know that the singer played the piano and was not only surprised but very impressed.
In another change of pace, blues singer Taylor John Williams took on the love song "If," by Bread.
All judges touted his style switch as a success, leaving coach Pharrell to simply describe it as "dope."
Reagan James, the competition's youngest singer at age 16, put a reggae twist on the Lenny Kravitz favorite "It Ain't Over Til It's Over."
"It's always cool to see someone come up here with their own vibe," said Pharrell. "You definitely made that song your own."
Throughout the show, host Carson Daly drew attention to the fact that coach Blake Shelton's mom texts her thoughts to her son while he's sitting in the judge's chair, sparking a Twitter hashtag, #textsfromblakesheltonsmom.
Tweets poured in poking fun at Shelton's rapport with fellow coach Adam, and some made remarks suggesting what the coach was drinking throughout the night.
One performance that didn't go as smoothly was Luke Wade singing Ed Sheeran's "Thinking Out Loud."
In an early lyric mishap, Wade, a member of Team Pharrell, continued through his routine but was visibly upset by his mistake.
Adam Levine said, "you recovered it as well as he possibility could have. Good on you, man."
Gwen Stefani tried to console the disappointed singer by saying it's happened to her thousands of times.
Team Adam's resident pop rocker Matt McAndrew took on Hozier's "Take Me To Church," in a powerful performance that brought the singer to his knees.
Blake Shelton said he was frustrated by the audience's cheers for McAndrew, saying they were so loud he could barely hear the performance.
Gwen called the performance "a good mixture of everything that's perfect for you."
Saved from elimination last week, Team Adam's Chris Jamison took the stage with "Jealous" by recent heartthrob Nick Jonas.
Singing the song in its original version, Jamison added some high notes, resulting in screams from the audience.
"That is 100 percent your best performance," said Pharrell. "It was like effortless."
Ending the night was Team Gwen's Anita Antoinette, who sang "Redemption Song" by Bob Marley, letting her reflect on her Jaimaican roots.
The song was also performed by former competition winner, Tessanne Chinn.
Sitting amongst the audience, Atoinette delivered a heartfelt performance that her coach Gwen Stefani called authentic and beautiful.
"I just feel blessed to be a part of it," she said.
Also taking the stage to fight for the Top 10 was Ryan Still singing Duran Duran's "Ordinary World," Craig Wayne Boyd singing "You Look So Good in Love," by George Strait and Damien singing "He Ain't Heavy, He's My Brother" by The Hollies.
[[ 283014791, C]]
Viewers can vote by calling, texting and downloading the iTunes song of their favorite artist.
"The Voice" airs every Monday and Tuesday at 8/7c.