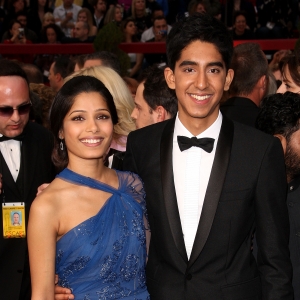 4:01 PM — My fiance has arrived!!!!! "Twilight's" Rob Pattinson. Drool.
4:00 PM — Finally a little opening in the carpet so nominee Amy Adams can pose. Behind her is Amanda Seyfriend from "Mamma Mia". Not loving her orange dress.
VIEW THE PHOTOS: Oscar 2009: Red Carpet
3:59 PM — A huge crux of non famous/non actor nominees arrive causing gridlock at the top of the red carpet. For some reason Richard Jenkins has come back up here too.
3:55 PM — Judd Apatow and his wife Leslie Mann arrive. She's in a very metallic shiny dress. He looks uncomfortable posing. She looks like she loves every minute of it.
VIEW THE PHOTOS: Glam Slam: Five Favorite Oscar Looks Of All-Time
3:49 PM -- Best actor nominee Richard Jenkins arrives, takes a few photos and then immediately heads down the carpet avoiding interviews.
3:37 PM -- Three nominees arrive right in a row. Melissa Leo, Viola Davis and Taraji P Henson. Taraji looks the best in a creme colored dress with a fun red purse. She poses with Viola and then her mom and grandmother.
3:35 PM — John Legend poses with his date in a peach gown and lots of boob showing. One of the photogs yells, "eyes up please." Kind of hard with that dress!
VIEW THE PHOTOS: TV Expert Laura Saltman, The Dish Of Salt… Live In Action!
3:34 PM — Dev Patel and the stunning Frieda Pinto pose together. Frieda looks beautiful in a teal gown, which looks to have a little Indian influence. The photographers beg for her to pose alone. She does and blows a kiss to the camera.
3:32 PM -- A producer from another entertainment news show yells down to an Indian family, "Are you from Slumdog?" They say, "No" they are from a documentary. Can you say faux pas?!
A minute later the real kids from "Slumdog" arrive and pose together. So cute!
(Apparently a lot of people made the same mistake about the "Slumdog" kids!)
3:31 PM -- Dev Patel and Anil Kapoor forgo the limos and walk into the security tent from the street. A large group of seat fillers cheer and clap for them.
3:30 PM -- Two Hollywood legends arrive Louis Gossett Jr. and Mickey Rooney.
3:27 PM — Zac Efron and Vanessa Hudgens arrive. She's in a black mermaid gown. Zac gives her a sweet kiss on the temple and together they look up and take in the moment of being at the Oscars together.
3:25 PM — Phoebe Cates and Kevin Kline come back to pose.
3:24 PM — Joel and Jennifer Grey arrive. The "Dirty Dancing" star looks pretty in black. I'm sure everyone will be asking her about her co-star Patrick Swayze tonight.
3:22 PM -- Sir Anthony Hopkins poses with his pretty wife. He's looking better than he did at the SAG Awards where he was super thin.
3:20 PM — Kevin Kline and wife Phoebe Cates breeze by the press claiming, "we're coming back." We'll see if they actually do. Danny Glover does stop and pose with his very large family. How did he get so many tickets?!
3:18 PM -- Dominic Cooper from "Mamma Mia" arrives. He is performing at the show.
3:05 PM -- Virginia Madsen arrives in red and just behind her is Emile Hirsch.
3:00 PM -- Right at the top of the hour Miley Cyrus is the first celebrity to arrive. She waits patiently in the security tent as Wolfgang Puck poses with some food. She let's Danny Glover go in ahead of her. Her mom stands aside and then steps in to pose with her. Mom keeps fluffing out her dress for her. The dress is stunning but maybe a little too old for her?
2:30 PM -- Just got in a fight with a nasty cameraman from E! who refuses to move. This could get ugly. I think I can take him.
2:15 PM -- This is my twelfth consecutive year covering the Oscars. So much for the glamorous Oscars! No gown, no fancy hair. I'm standing behind the photographers in black pants and a black top at the top of the red carpet with a massive headset on so I can alert everyone who is arriving. Not exactly great for my "on air" reputation but a girl's gotta blog and spots are tough to come by at the Oscars so you take what you can get.
Related Content from AccessHollywood.com:
PLAY IT NOW: Dish Of Salt: 'Idol' Experience Opens In Orlando
PLAY IT NOW: Oscars 2009: One Minute With Hugh Jackman

MORE ACCESS ON THESE TOPICS: Oscars - Dish Of Salt - Vanessa Hudgens - SAG - Patrick Swayze

Copyright NBCAH - Access Hollywood