There's a special meaning behind Tiffany Haddish's 2018 Oscars look.
The "Girls Trip" star told E!'s Ryan Seacrest on the red carpet that the traditional African gown is a nod to her Eritrean heritage, where her late father was from.
Reflecting on her whirlwind year, Haddish shared, "There have been really awesome, really great times and some bad times. My father passed away this year and he's from Eritrea."
She recalled him telling her, "'One day you're going to end up at the Oscars and when you go, you have to honor your people.' So I'm wearing an Eritrean, authentic princess dress. And I'm proud of it."
[NATL] Best Moments from the 2018 Oscars
Standout Style Moments From Oscars 2018
Heartwarming dedication aside, Haddish is presenting at her very first Academy Awards.
The comedienne said she's most looking forward to "meeting Meryl Streep and asking her to be my mama," adding, "I'm looking forward to having drinks with Whoopi Goldberg. I'm looking forward to doing the 'Nae, Nae' with everybody, and I'm definitely looking forward to presenting an Oscar."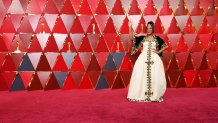 Copyright E! Online