Do you want to play a game?
If you've ever wondered what you would do if you were stuck in a room designed by engineer John Kramer, notoriously known as the "Jigsaw" killer from the "Saw" movie franchise—now you can find out.
To celebrate the forthcoming release of the franchise's eighth installment, titled "Jigsaw," Lionsgate has set up a real-life "Saw" escape room for the fans at 2017 New York Comic Con.
"Jigsaw: Survive the Trap" combines Virtual Reality with a real-life escape room where you and three other victims have 10 minutes to work together to solve puzzles and escape the trap alive.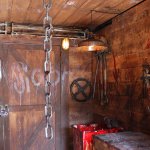 To actor Tobin Bell, who has portrayed the Jigsaw Killer since the first film's release in 2004, it is more than a game. Bell, 75, hopes that the younger generation who never got to see the earlier films in theaters get something out of "Jigsaw."
Bell says the motive of the killer and the premise of the film remain the same. His character, Kramer (who was given the name "Jigsaw" because he takes a piece of flesh in the shape of a jigsaw piece from his victims) sees his victims as ingrates taking their lives for granted. Therefore, they are not deserving of their unappreciated lives. He puts them through extremely elaborate and deadly traps to allow those people to prove themselves.
Bell praised the directors Peter Spierig and Michael Spierig for setting the film apart from the rest of the franchise. The Spierig Brothers described the new installment as "'Saw' for 2017," and Bell says that the film reflects "what's going on in the world today."
"Jigsaw" opens in theater Oct. 27, and fans in New York can experience "Jigsaw: Survive the Trap" from Oct. 5-7, at the Javits Center.
[[238904721, C]]