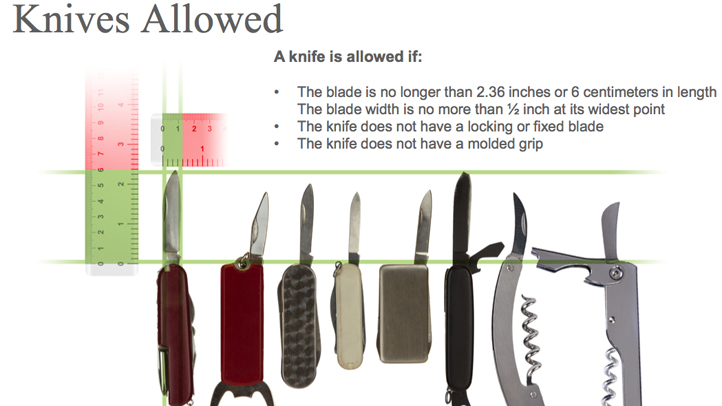 The U.S. Transportation Security Administration announced that it will allow small knives and other previously restricted items like golf clubs and hockey sticks on the plane for the first time since the Sept. 11 attacks.
"This is part of an overall Risk-Based Security approach, which allows Transportation Security Officers to better focus their efforts on finding higher threat items such as explosives," the TSA said in a statement.
For full U.S. news coverage, visit NBCNews.com.
Knives must be less than 2.36 inches and less than half an inch at the widest point. Box cutters and knives with locking blades and molding handles are still banned, NBC News reported. The change will take effect April 25.
Overseas passengers will no longer have to check their knives as they pass through the U.S., according to Bloomberg News.
Novelty sports equipment like souvenir bats given out at baseball games and Wiffle ball bats will also be allowed as long as they're less than 24 inches long. Lightweight plastic bats are permitted even if they're more than 2 feet long.
Billiard cues, ski poles and lacrosse sticks will also be permitted.
"All TSA is doing is catching up with the rest of the world," Douglas R. Laird, president of aviation consulting firm Laird & Associates and former head of security for Northwest Airlines told NBC News.
Visit NBCNews.com for breaking news, world news, and news about the economy