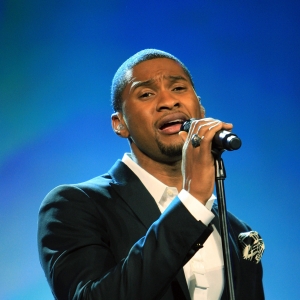 Usher has apologized for his comments about photos of Chris Brown smiling while skimming the surf on a Jet Ski this past Saturday, just weeks after he was arrested after allegedly assaulting Rihanna in Los Angeles.
On Tuesday, MTV News reported that Usher commented on the Chris Brown photo on Jermaine Dupri's YouTube channel, Living The Life.
VIEW THE PHOTOS: Rihanna: Music's Style Superstar
"I'm a little disappointed in this photo," Usher reportedly said according to MTV News. "After the other photo [of a woman believed to be Rihanna, following the incident, was posted on TMZ]? C'mon, Chris. Have a little bit of remorse, man. The man's on jet skis? Like, just relaxing in Miami?" Usher asked.
On Wednesday, Usher released a statement saying his comments were, "taken out of context and blown out of proportion."
"The comments made during a recent recording session amongst friends were taken out of context and blown out of proportion. I apologize on behalf of myself and my friends if anyone was offended," the singer said in statement released to Access Hollywood.
"The intentions were not to pass judgment and we meant no harm. I respect and wish the best for all parties involved."
The photos, which emerged over the weekend showing Brown on the Jet Ski, were the first of the singing star since the incident.
As previously reported on AccessHollywood.com, Rihanna and Brown have reconciled and are once again romantically involved. They reportedly spent the weekend at a Star Island, Miami, and they are currently back in LA together.
Related Content from AccessHollywood.com:
PLAY IT NOW: Chris Brown & Rihanna's Reunion (March 2, 2009)
PLAY IT NOW: Are Stars Reaching Out To Rihanna?

MORE ACCESS ON THESE TOPICS: Usher - Chris Brown - Rihanna - Celebrities - News

Copyright NBCAH - Access Hollywood