Days after a photo of Florida newborn twins hugging in a hospital went viral, the family is grieving the the loss of one of the boys, born with a rare medical condition.
Twins Mason and Hawk Buchmeyer of St. Lucie County captured many hearts on social media thanks to a photo of the 3-week-old boys posted on Facebook on Sept. 1.
Little Mason is pictured embracing his brother Hawk and smiling.
"This picture was taken 11 days after they were born, it's the first time they have ever touched and as soon as Mason felt Hawk he reached out for his arm and smiled this big," the post reads. "We thought it was time for everyone pulling for our boy to see this picture."
The photo, showing little Hawk on a ventilator, has garnered over 100,000 likes and more than 27,000 shares.
Hawk was born with a congenital diaphragmatic hernia, which is a defect in the diaphragm. According to the National Institutes of Health, the diaphragm separates the organs in the abdomen from those in the chest.
Hawk had undergone numerous surgeries since his birth and was being treated at Shands Children's Hospital at The University of Florida in Gainesville.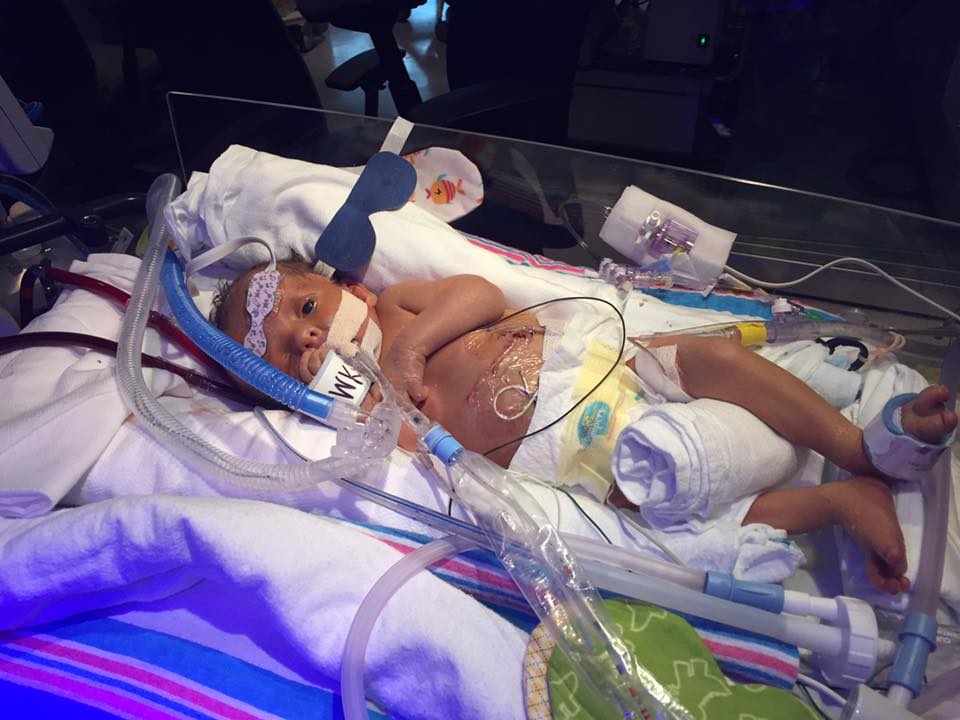 On Wednesday morning, the parents, Brandy Guettler and Tommy Buchmeyer, posted a message on their Facebook page: "Our hearts are saddened this morning as our sweet little man was called home to be with Jesus. He went very peacefully and we know he's no longer suffering. Please give us some time to grieve and try to start the healing process."
The parents created the Facebook page for the twin brothers to keep family, friends and now strangers updated on the condition of the newborns.