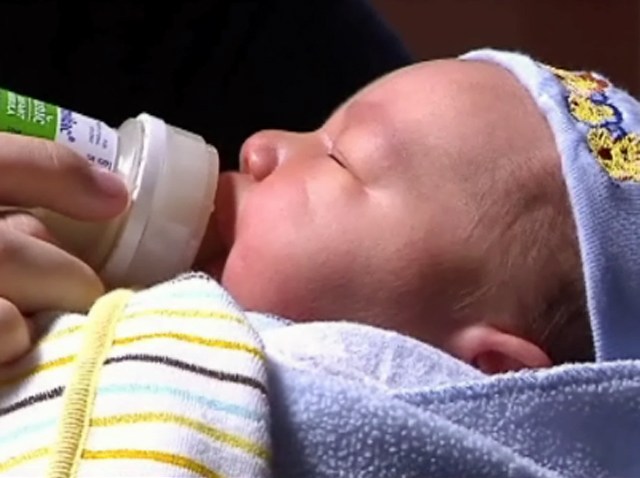 In a unique case mixing adoption and a kind of surrogacy, a Fort Worth couple agreed to give their newborn son to their siblings, a couple unable to have children themselves.
Doctors and nurses who have worked for years in labor and delivery say they have never seen anything like this, and it's no wonder. You don't often see families like this: two brothers and two sisters making two sets of parents.
That's right: Christopher Ryan Smith, who was born Tuesday at Texas Health Harris Methodist Hospital Southwest Fort Worth, will be staying in the family even as he is adopted by new parents.
His biological mother is his adoptive father's sister. His biological father is his adoptive mother's brother.
"I've had people be surrogates for brothers or sisters but never give someone their child," said Amy Decker, a Texas Health nurse who helped care for Christopher. "I think that's amazing."
The adopting couple had tried for years. "We just kind of gave up hope," said Amy Smith. "This is all we've wanted is to have a baby of our own."
"He's definitely a gift, and we're going to cherish him," said Amy's husband, Ryan.
On the other side of the family, Jose Villegas and Lindsay Smith already had four children of their own when they offered to become pregnant and give the baby to their siblings.
"She got pregnant, and then she told us, 'It's y'alls!'" adoptive mother Amy said.
The couples said they first agreed to the plan before the pregnancy.
"For them to have a child for us and give it to us, they're extremely big people," said Ryan Smith. "I don't know anybody else out there that would do that, I really don't."
"Everybody deserves a chance to be a parent," Lindsay, the biological mother, said. "It's not that I'm giving it away. We created this child for them. It's theirs."
Lindsay said she now considers herself Christopher's aunt. "I've referred to myself as Aunt Lindsay since he was born," she said.
Ryan Smith said he is a proud adoptive father. "You get emotional, you really do," he said. "You're going to be with this kid for the rest of your life. He's going to be with us. I'm going to start crying now."
One day, they plan on telling Christopher that he's adopted and his biological parents are in fact his aunt and uncle.
"It's only fair he realizes how special he is to us," said Amy Smith. "By telling him, it's going to show him he really is loved, by us and them too."
The couples plan to formalize the adoption in the next few weeks but said they had to wait until he was born to do the legal paperwork.
Tuesday evening, Christopher left the hospital with his new adoptive parents.
"I'm happy for them," Lindsay said after the new parents left. "Christopher is going to have a great life with them."