Humans looking to beat the heat sweltering the Bay Area this weekend weren't the only ones making a beeline for a cooler San Francisco.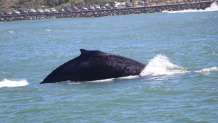 Multiple whales splashed their way underneath the Golden Gate Bridge, treating amazed onlookers to quite a show. [[429493683, C]]
Various people cruising in boats or walking across the bridge captured the marine creatures in action and posted the memorable events on social media.