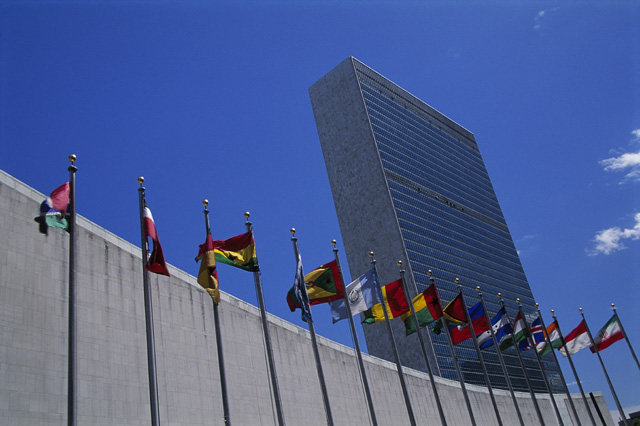 The United Nations' mission is for countries to unite "for a better world," but the annual General Assembly has often served as a reminder of the struggle that can arise when leaders of 193 nations come together.

Held at the U.N. headquarters in New York, the General Assembly is "the main deliberative, policy making and representative organ of the United Nations," according to the U.N. website. This year's Assembly started on Sept. 17, though high-level meetings kicked off Monday. General Debate, where leaders address can fellow delegates, begins Tuesday.

Historic decisions like the 1945 creation of Israel have occurred during the annual U.N. meeting of the world's leaders. But in the 68 years of the Assembly, there have been plenty of theatrical moments on the world's stage, too.

Soviet leader Nikita Khrushchev's infamous (if inconclusive) shoe-banging incident made headlines in 1960. In 2006, Venezuela's Hugo Chavez got attention for comments likening George W. Bush to the devil. Three years later, Libya's Moammar Khaddafy had a tough time finding a property owner willing to let him pitch his giant tent while in town. Last year, Israeli Prime Minister Benjamin Netanyahu held up a cartoon drawing of a bomb and drew a red line indicating when to act against Iran's suspected nuclear program.
This year promises to be no different, according to NYU Professor Shinasi Rama, who focuses on international relations and comparative politics. Although past-headline makers Khaddafy and Chavez have died and Iran's Mahmoud Ahmadinejad is out of power, Rama said that, undoubtedly, someone else will make waves at this year's meeting.
"I expect that there will be some erratic kind of behavior, eccentric and out of the norm," Rama said. "Every time the General Assembly of the United Nations meets, there will always be states and leaders that push their political agenda and appeal to their constituents back home by doing things that seem extreme or erratic to U.S. public sensibilities."
Rama did not predict who that would be, but said it is unavoidable that in such a large meeting of the minds at least one delegate would do something in an effort to be remembered.

One of the main reasons for contention at the annual meeting is that the mission of the U.N. often does not align with the political ambitions of the world's leaders, Rama said.

"The United Nations was built on great hope of building peace and stability for the world," he said. "Countries are pushing for their agendas which are not always in line with the human rights ideas or support for the mission of the United Nations, but are based on cold-hearted calculations of their interest."

This year, the Assembly is poised to focus on the Syria conflict and the creation of a "pivotal" new post-2015 global plan for development, according to the U.N. website.
There are also rumors of the possibility of a historic meeting between President Barack Obama and new Iranian President Hassan Rouhani sparked by recent written correspondence between the leaders.

If the two did meet, it would mark the first time that a U.S. and Iranian president have spoken directly since the Iranian Revolution in 1979.
"Even something as seemingly small as a handshake would mean that a taboo has been broken," Hussein Banai, co-author of the book "Becoming Enemies: U.S.-Iran Relations and the Iran-Iraq War," told NBC News.
Such an ice-breaking move could set the stage for a future meeting, P.J. Crowley, a former assistant secretary of state and National Security Council adviser, told NBC News.
Both leaders are set to deliver speeches before the U.N. on Tuesday. Here is a list of all speakers for General Debate. The proceedings will be streamed on the U.N. website.
The General Assembly of the United Nations is scheduled to conclude on October 8.