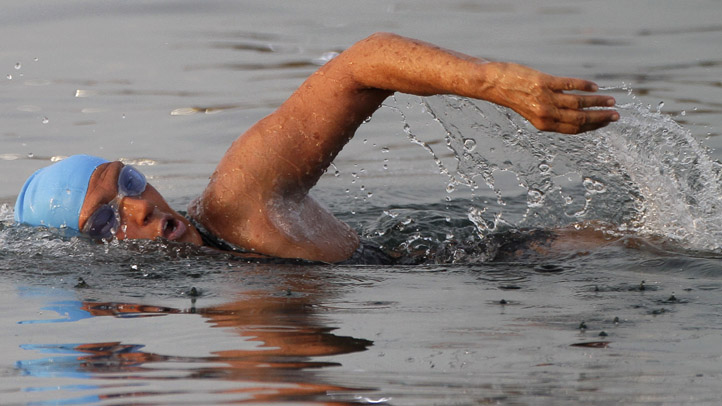 A sixty-one-year-old woman is attempting an unprecedented 103-mile swim from Havana to the Florida Keys - without a shark cage.
Diana Nyad, an endurance swimmer who holds the world record for open-water swimming with no shark cage, set off from Cuba Sunday night. The jaunt is expected to take 60 hours.
"I want it to be a moment for thousands, and I dare say millions of people my age, who are going to look and say, '60!"' Nyad said at a news conference. "The joke is 60 is the new 40, and it's true. We are a younger generation than the 60 that went before us."
She'll be escorted by a team of 45 in boats, including shark wranglers, nutritionists, navigators and doctors. She will stop every 45 minutes for 20-second breaks to drink water, juice, sports drinks. She will take a two-minute break every 90 minutes to rest and eat bread or peanut butter.
Nyad first tried the trek in 1978 with a steel cage, but turned back after 42 hours, as fierce currents took her off course. She set her world record the next year, swimming 102.5 miles from the Bahamas to Florida without a cage.
Australian swimmer Susie Maroney successfully swam the shark-filled waters from Cuba through the Straits and to the Keys in 1997, though she used a cage.