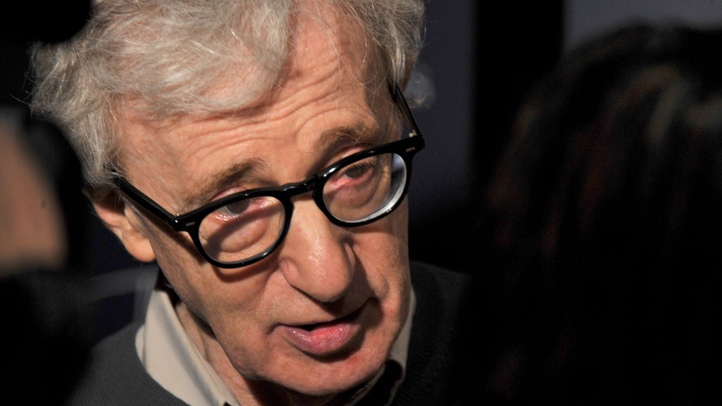 Lindsay Lohan and Woody Allen made headlines in May after the pair was spotted having dinner together in New York, leading to rampant speculation that the actress was working with the filmmaker.
In a new interview, the iconic director explained to Access Hollywood what happened at their dinner and if he wants to work with the star.
VIEW THE PHOTOS: The Trials & Tribulations Of Lindsay Lohan
"I wouldn't hesitate to use [Lindsay] in a movie because she's a very talented girl," Woody told Access the premiere of his new film, "To Rome With Love," at the Los Angeles Film Festival on Thursday.
However, Woody explained their dinner was not about a project.
VIEW THE PHOTOS: Lindsay Lohan's Courtroom Couture
"That was a social dinner, but as I said, she's a very gifted girl and I would not hesitate if I had something for her," he continued. "I'd certainly call her."
When asked if he would be worried about insuring Lindsay on a project, the filmmaker said not at all.
"That would not concern me, no. I mean, if there was some reason that I couldn't, that would be a different story, some legal reason, but it would not concern me personally, no," Woody continued. "I think that she'd be just fine and she'd do a great job."
VIEW THE PHOTOS: Lindsay Lohan: The Early Years
"To Rome With Love," with Alec Baldwin, Roberto Benigni and Penelope Cruz, hits theaters on June 22.
-- Jesse Spero
VIEW THE PHOTOS: Lindsay Lohan's Mug Shots Over The Years
Copyright 2012 by NBC Universal, Inc. All rights reserved.
This material may not be published, broadcast, rewritten or redistributed.
Related Content from AccessHollywood.com:
PLAY IT NOW: Lindsay Lohan's Car Crash: Did She Lie To Police?
PLAY IT NOW: Lindsay Lohan's Car Accident: What Happened?
More from Access: [ Lindsay Lohan Woody Allen Penelope Cruz ]
Copyright NBCAH - Access Hollywood