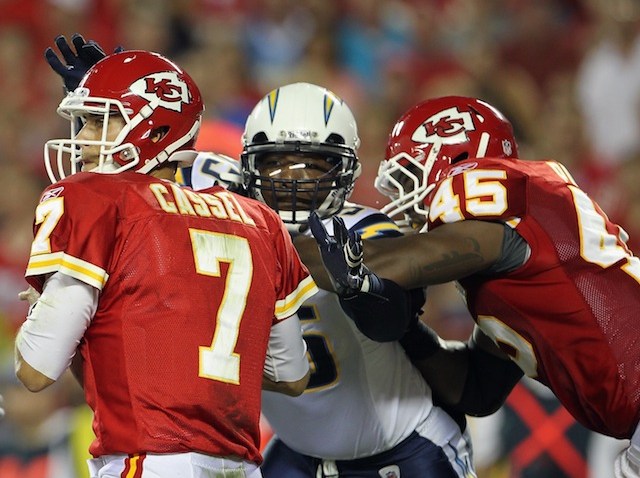 NFL Training camp season is always a time for irrational exuberance. Every team thinks it can win the Super Bowl, even though 31 of those teams will end being horribly wrong. And so, to preview the upcoming NFL season, which could be the most unpredictable ever, we now give you five reasons why your favorite team could win the Super Bowl. Today, it's the Kansas City Chiefs.

1. Because Todd Haley Can't Ruin Jamaal Charles Yet Again. Here are running back Jamaal Charles' YPC averages over the past three years: 5.3, 5.9, and 6.4. Now, here's the fun part: Those averages have improved every year despite the fact that Charles has gotten MORE carries each year. You don't see that a lot in football. Usually, an astronomical YPC average goes down the more carries you get. Charles is the opposite. He's like some kind of freak. Seriously, he's awesome. I'm terrified of him. Every time he gets the ball against my fantasy team, I want to curl up into a ball and suck the corner of a blanket.

The problem with Charles, as you know, is that Chiefs head coach Todd Haley has this masochistic fetish for not playing him, causing much blinding anger among Chiefs fans and fantasy players alike. I dunno why. I think Charles must have keyed his car or something (or because he fumbles twice a season, which should never be a dealbreaker with this kind of talent). Either way, Haley's steadfast refusal to give Charles more touches hurt this attack last year. He can't be stupid enough to limit Charles again, can he? Can he? It would take an inhuman level of stupidity to do something so rotten. The more Charles plays, the better KC is.

2. You won't have Charlie Weis to kick around anymore. Under Charlie Weis, Matt Cassel had his best season as a pro and had a ridiculous 27-7 TD-to-INT ratio. But Weis is something of an abrasive fellow, as is Todd Haley, and SURPRISE! Turns out both men couldn't stand each other and Weis bolted for Florida fast as he could. Now Cassel is working under first-year coordinator Bill Muir (no doubt with Haley assuming a whole lot more control), so perhaps the lack of internal strife will serve this offense well. Or you could say Weis' departure is another sign that Haley's ego has run amok, but this is a NICE preview, so we won't do that.

3. Dwayne Bowe KILL! Dwayne Bowe was the most terrifying receiver in football last season, scoring 15 TDs, 13 of which he scored in a span of just seven games, which is nuts. The Chiefs signed Steve Breaston to give Bowe even more breathing room this season, and while many don't like the signing, it at least gives the team someone to play opposite the headliner, instead of the bloated corpse of Chris Chambers.

4. Kelly Gregg is a mountain of a man. Gregg is one of those enormous run-stuffing DTs that always makes a defense better but rarely is singled out as the reason why. Gregg is old, but DTs like him oddly seem to remain effective throughout middle age (see Pat Williams of the Vikings), so his presence frees up the likes of Tamba Hali to do even more damage off the edge. Romeo Crennel returns to coordinate the defense, so there's little chance of a Weis-style blowup between Haley and the Battletoad.

5. You've seen this division, right? Oakland is worse. Denver is still a mess. And San Diego is still led by Norv. The league may turn over its division champs consistently, but there's little to reason to think KC isn't one of the two best teams in the West. Given that Todd Haley could ruin a bowl of Cocoa Krispies, it's something to hang your hat on.