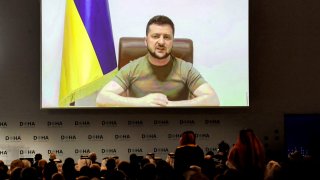 Ukrainian President Volodymyr Zelenskyy has made a surprise video appearance at Qatar's Doha Forum.
Zelenskyy in his video address Saturday criticized Russia's ongoing war on his nation. He called on the United Nations and world powers to come to his aid. He compared Russia's destruction of the port city of Mariupol to the Syrian and Russian destruction wrought on the city of Aleppo in the Syrian war.
"They are destroying our ports," Zelenskyy said. "The absence of exports from Ukraine will deal a blow to countries worldwide."
He added: "The future of Europe rests with your efforts." He called on countries to increase their exports of energy — something particularly important as Qatar is a world leader in the export of natural gas.
He criticized Russia for what he described as threatening the world with its nuclear weapons.
"Russia is deliberating bragging they can destroy with nuclear weapons, not only a certain country but the entire planet," Zelenskyy said.
He also noted Muslims in Ukraine would have to fight during the upcoming holy fasting month of Ramadan.
"We have to ensure this sacred month of Ramadan is not overshadowed by the misery of people in Ukraine," he said.
This is a live update. Click here for complete coverage of the crisis in Ukraine.