Florida Sen. Marco Rubio met with noted Cuban blogger Yoani Sánchez in Washington on Wednesday to discuss a range of issues, including expanding Internet access in Cuba.
Sánchez, who writes the Generación Y blog, and fellow blogger Orlando Luis Pardo Lazo sat down with Rubio, Florida's first-term Republican senator, and Senate Foreign Relations Committee Chairman Bob Menendez, a Democrat from New Jersey.
Rubio called Sánchez "a remarkable woman" and said he was honored to meet her and get her thoughts on issues regarding the Cuban people and their future.
"Through her Generación Y blog, Yoani has given the rest of the world valuable insights into daily life in Cuba and, more importantly, given us a glimpse of what brave, Cuban democracy advocates like her can do with a little bit of Internet access," Rubio said in a statement. "I believe expanding Internet access to Cuba is an important foreign policy goal we should work towards, so that many more can follow Yoani's lead and help expose the reality of the regime's inept and repressive nature."
From 2009: Yoani Sánchez Seized From Streets of Havana, Beaten, Released
Sánchez is on a tour of the U.S. and other countries to talk about life in Cuba. She will visit Miami-Dade College on April 1.
Rubio's parents emigrated from Cuba to the U.S., first coming to this country in 1956.
Sánchez and the senators discussed what her life in Cuba is like, as well as recent changes in Cuban travel and property policies, foreign tourism to the island nation, and the future of the Castro regime.
"Yoani's tour is a testament to her relentless drive in all she does, having been denied this chance by the regime so many times but keeping at it until she was finally allowed to travel," Rubio said. "Her trip is invaluable in helping others better understand Cuba from the perspective of people like her who long to be free."
In West Miami, Locals Watch Latest Step in Rubio's Career
He also warned the Cuban government about her safety once she returns home.
"It is critically important that, when it's time for her to return home, we remain vigilant about the abuse and acts of vengeance the regime is surely contemplating against her," Rubio said. "The Castro regime is full of thugs and murderers, and we must join other nations in continuing to demand the safety and human rights not only of Yoani but of all the Cuban people."
Below: Rubio with Sánchez and Menendez, in another image provided by the U.S. Senate Photographic Studio.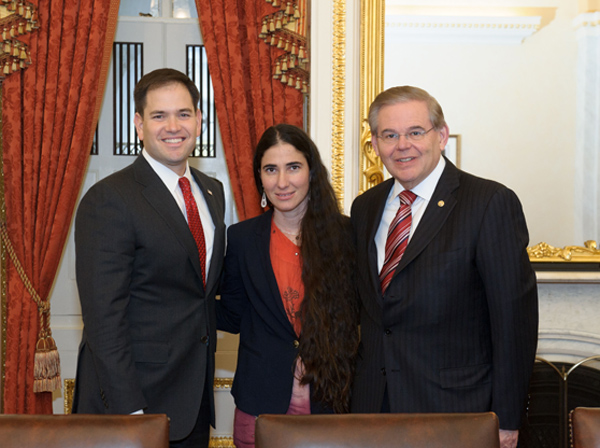 Rubio: Time to "Turn the Page" in Venezuela
Published at 9:44 PM EDT on Mar 20, 2013 | Updated at 10:19 PM EDT on Mar 20, 2013