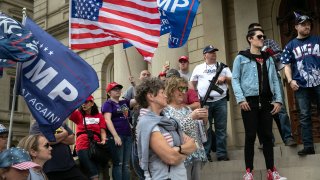 Once again, TikTok users are attempting to troll President Donald Trump by calling into a hotline for voter fraud started by his campaign, and making false, and often silly, reports to clog the lines, NBC News reports.
Even before the ballot counting began, Trump had made false claims about voter fraud. Those claims have led to accusations of vote-rigging, protests at counting centers and false declarations of victory from Trump.
The campaign set up a voter fraud hotline for citizens to report any shady goings on they noticed at their respective voting stations.
"Help stop voter suppression, irregularities and fraud," read a post on Twitter from Trump's son Eric Trump, promoting the hotline. "Tell us what you're seeing."
But TikTok saw the hotline as an opportunity to mess with the campaign.
Read the full story on NBCNews.com