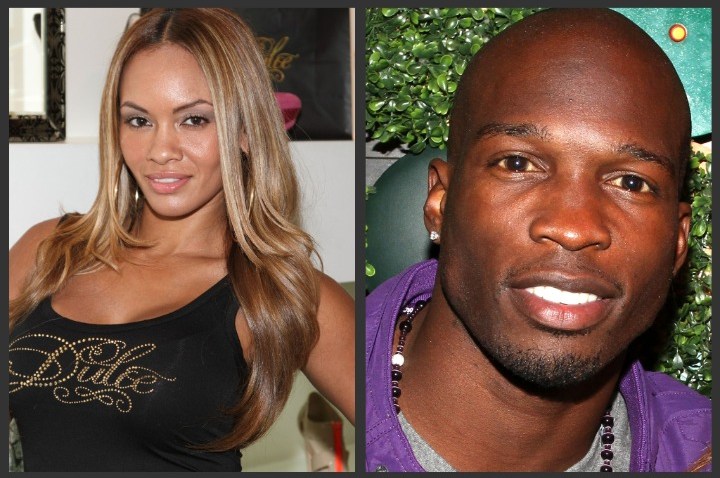 She might have started her small screen career as a basketball wife, but as of July 4th, she will officially have to make the switch to a football wife. We are, of course, talking about Basketball Wives star Evelyn Lozada who is set to marry NFLer Chad Ochocino next week.

The pair, who met via Twitter, have had their love in the spotlight since it began two years ago. And the wedding will be no different. Vh1 has been caught every detail for their spinoff show, Ev & Ocho.

So before the sure-to-be hit airs on Vh1, she sat down with us at Books & Books in Coral Gables to discuss her new book, Inner Circle: The Wives Association, Ochocinco's trade to the Miami Dolphins and dished details of her upcoming nuptials.

Niteside: How is the book tour going?
Evelyn Lozada: It's going. I am just really tired! I was just in New York and there was 200 people there. It's so nice to be back home in Miami. I can't complain too much though – I love meeting my fans. I really do.

What can fans expect from Inner Circle: The Wives Association?
It's not a tell all. I handed my manager a bunch of journals at the time and was like, "Here, lets make a book out of this. I think it could work." And it did. It's stories of friends, love, my life, things I couldn't really talk about, etc. It's a lot of things I would never talk about and put on blast. But putting it in a book – why not? You get a glimpses of what this life is like.

I know your wedding to Chad Ochocino is coming up. Any details you can to disclose?
We tried to keep it a secret, but the invite got out. It's July 4th. It was a little hard finding a venue because we are putting the wedding on TV. The media said it was because of Basketball Wives drama, but really it was because they had to worry about their staff being on TV. We found a very private venue – we love it. It's going to be a little traditional, but with a Chad & Evelyn twist. No bridesmaids – just our kids. Everyone will be surprised to see Chad's arrival, of course. He has his own entrance – ill say that.

Was his trade to the Miami Dolphins an early wedding gift?
Yes, yes, yes. He's very, very excited. We are home! Life is going to be more hectic for me, but now when I get to come home, I get to come to Miami and not Boston. He's really happy too. His energy is just so positive – he's like a little kid. I will be at every game.

He was unemployed for what... a day?
He was unemployed for a scary 48 hours. There was a part of me that was like, "Chad, Thank God these books are selling!"

Lets talk Basketball Wives. Will you be back next season?
We shall see. We haven't started negotiating yet. We just stopped filming a month ago.

So, can we confirm there will be a season five?
I can confirm there will be a season five we just don't know what the cast will look like.

Can you clear up some rumors: Shaunie O'Neal, Jennifer Williams, Royce Reed and Kesha Nichols are off?
Shaunie is on. I heard the same thing, but I am not sure honestly. I heard the same as everyone else. It's still early. I wouldn't be surprised. Certain people's story lines start becoming repetitive. Nothing is official. Sometimes there are things that I have no idea about. It should be interesting to watch.
How are you and former best friend Jennifer Williams today?
Viewers watched as we began to make up during the reunion. But I emailed her and said, "I meant what I said that day." She emailed me back "Happy Mother's Day" and we haven't really spoken since. It's a very sticky situation. I am treading lightly till the storm passes. It will take time.