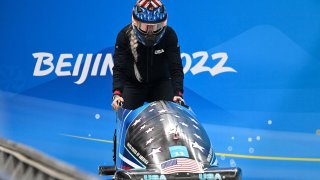 Kaillie Humphries is one step away from winning the first Olympic women's monobob event.
The three-time Olympic medalist is in first place entering the final heat of the event on Sunday night. Teammate Elana Meyers Taylor sits in third place.
Humphries, 36, posted the two best times in both heats Saturday night, and then again in the first heat Sunday, putting her in front with a total time of 3:13.97.
Canada's Christine de Bruin is 1.55 seconds off the pace in second.
Beijing 2022 Winter Olympics
Watch all the action from the Beijing Olympics live on NBC
Humphries already owns two Olympic golds, each in the two-woman, as well as a bronze in the two-woman.
Meyers Taylor is a three-time Olympic medalist, with two silvers and one bronze, but she is still in search of her first gold.