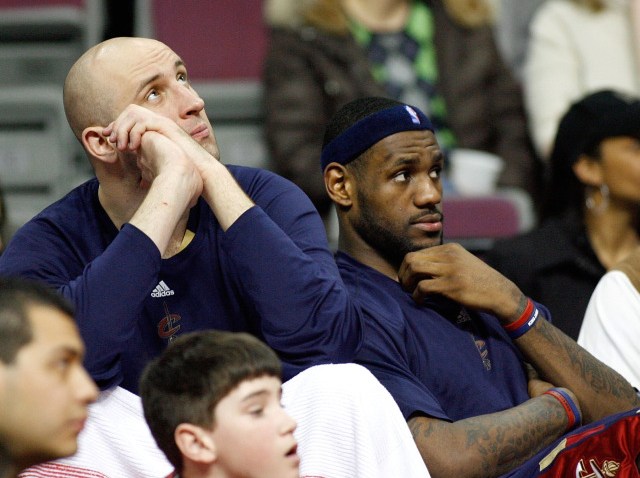 It's not exactly a contest, and it's certainly one that LeBron James has every right to be uninterested in winning.
But of the two former Cleveland Cavaliers who've signed on with the Heat, it's clearly Zydrunas Ilgauskas who'd take the Mr. Congeniality tiara: the Lithuanian center ran an ad in Sunday's Cleveland Plain Dealer thanking fans for fourteen years of support.
It was, in fact, the exact opposite of LeBron spending his weekend giving the bird to an Akron radio DJ. Sigh.
Dear Cleveland,

When I came to this country 14 years ago, I was a young man who barely spoke the language and had no idea what to expect of this great country.

As I look back on those early days, I realize how lucky I was to have grown up in a place like Cleveland. All of you have taught me the importance of family and friends; of pulling together to get things done; of loving your country.

I've never felt as proud as when I've pulled on the wine and gold and stepped onto the court.

I've tried my best to return that support by playing as hard as I could each and every game.

The decision to play for Miami was not an easy one to make for either myself or my family.

But as I enter the last few years of my career, I felt I owed it to myself and my family to chase my dream of winning an NBA championship.

I hope you understand.

I also hope you realize that Cleveland will always be home to me.

With love and appreciation, Zydrunas "Z" Ilgauskas
Oof, that's nice. The thanking, the explaning, the pointing out of all three things good about Cleveland -- the man could run a hefty side hustle breaking off engagements to hideously ugly but overly passionate women.
And we haven't even gotten to the barely audible Lee Greenwood wafting off the page, or how Big Z called Cavs brass to let them know of his decision privately and express a desire to return to the team in some capacity after his retirement.
The only problem is, the letter makes LeBron look even worse than before, and you know what that means: ESPN will shortly wipe Ilgauska from the face of the earth, announce he will never run again, blame it on a journalist, and then pretend he never existed.
And if that leaves the Heat with Shaq again, well, we're coming for you too, Big Z.
Janie Campbell is a Florida native who believes in the pro-set and ballpark hot dogs. Her work has appeared in irreverent sports sites around the internet.