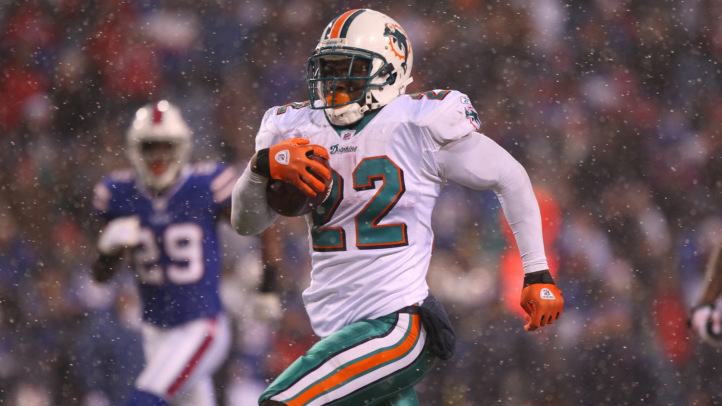 Miami Dolphins RB Reggie Bush was named AFC Offensive Player of the Week on Wednesday, following his career-best 203-yard game against the Buffalo Bills on Sunday.
He is the second Dolphin to earn Offensive Player of the Week honors this season. QB Matt Moore won the award for his Week 9 performance in Kansas City.
"Obviously personal stats are great but for the most part I'm focused on winning," Bush told the Sun Sentinel on Wednesday. "Any time you get an honor like that I think it means a lot. I think the offensive line would definitely appreciate it a lot especially with the job they were able to do."
Bush has quietly turned in the best season of his career, fulfilling his preseason promise to
prove he can be an every-down back
. He has rushed for 973 yards and 6 touchdowns, averaging 5.0 yards a carry through 14 games, career highs in all three categories.
His 194 carries are well above his career high as well, but most pertinent to his every-down back promise is the fact that he has not missed a start all season. If he can make it through the final two games of the year unscathed, it will mark the first time in his 6-year career that he has started all 16 games, and only the second time he has appeared in 16 games (the first was his rookie season).
With only one year remaining on the free-agent contract he signed with the Dolphins this summer, the team could consider extending his deal over the offseason. Rookie RB Daniel Thomas has failed to live up to his promise thus far this season, amplifying Bush's value to the Dolphins.
He may never be the player NFL watchers were expecting when he was drafted second overall by the New Orleans Saints in the 2006 draft, but Reggie Bush is one of the few constant performers on the Dolphins offense this season. The team would do well to lock him up after this season, giving general manager Jeff Ireland one less upgrade to make when he remakes the team during the offseason.