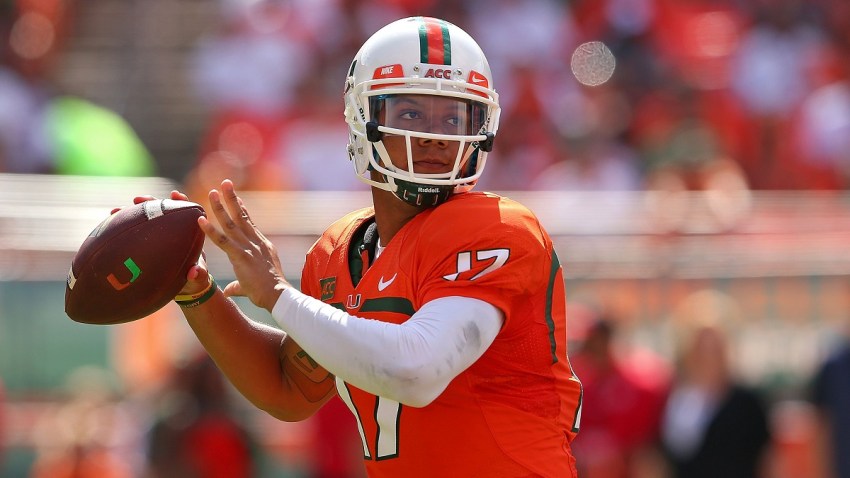 The Miami Hurricanes found out Sunday who they will face when they make their first bowl appearance since the 2010 season.
On Sunday, the school announced it accepted an invitation to travel to Orlando and face the 18th-ranked Louisville Cardinals in the Russell Athletic Bowl on December 28. It will be Miami's first bowl game since the 2010 Sun Bowl, when they lost to Notre Dame in El Paso.
"On behalf of the University of Miami, President Shalala, the Board of Trustees, Coach Golden and our football program, we are honored to accept an invitation to play in the 2013 Russell Athletic Bowl," UM Athletic Director Blake James said in a statement. "We're excited to play so close to home and look forward to Hurricanes fans painting Orlando orange and green."
Miami last appeared in the Russell Athletic Bowl when it was known as the Champs Sports Bowl, in 2009. That night, they lost to Wisconsin 20-14 at a wet and sloppy Citrus Bowl.
Miami's other two appearances in the bowl came in 1996 and 1998, when it was played in Miami and known as the Carquest Bowl and Micron PC Bowl, respectively. The Canes beat Virginia 31-21 in 1996 and NC State 46-23 in 1998.
Miami's opponent has plenty of South Florida ties. They are led by QB Teddy Bridgewater, a Miami Northwestern product who originally committed to attending Miami. He switched to Louisville after Miami fired coach Randy Shannon, who had recruited him.
Bridgewater is one of 25 players on Louisville's roster from Florida. His departure made way for current Miami QB Stephen Morris to win the starting job after the graduation of Jacory Harris in 2011.
"It'd be a great challenge and a great headline for a lot of people," Morris told The Associated Press on Saturday when asked about a potential Miami-Louisville matchup. "Teddy's a great quarterback. It'd be a great challenge ... a lot of people would focus on that, two quarterbacks from Miami going at it."
This will be the 12th meeting between the two schools, with Miami holding a 9-1-1 advantage. Louisville won the last meeting, in 2006. Louisville will join the Atlantic Coast Conference in 2014, so this will serve as a preview of sorts for the Cardinals.
The Canes will have a chance to win a tenth game for the first time since 2003. The game kicks off at 6:45 pm ET on December 28, with coverage on ESPN.
Copyright AP - Associated Press