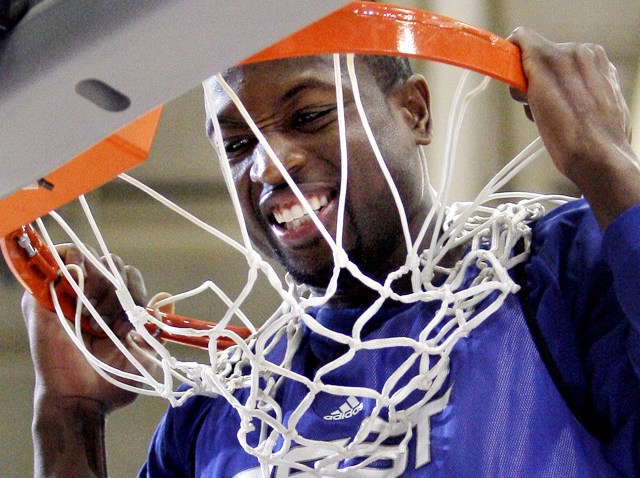 He didn't compete in the dunk or skills contests, but Dwyane Wade's having a hardware-filled weekend in Dallas anyway. The NBA and TNT put forth 13 "All-Decade" categories to determine the biggest players and best plays of 2000-2009, and our very own MV3 cold rocked the vote for "Regular Season Posterization."
In other words, no one humiliated another player in a non-playoffs game like Wade did Anderson Varejao back in November in a game game against Cleveland.
...With just under four minutes in the first quarter, and in front of his idol Michael Jordan, Dwyane Wade grabbed a Jermaine O'Neal block of LeBron James, took off, and hammered down a filthy dunk "on Varejao's soul" that sent the poor sap to the floor on his back like a humiliated turtle.

It didn't end there -- MV3 was so fired up that after his forward momentum carried him a few steps court left, he turned and strode the opposite direction back under the basket just so he could step over his kill. The place errupted. So did Varajao, who clearly realized he'd just become the whipping boy of 8 billion YouTube videos and tried to earn back a little self-worth with his mouth back down the stretch.

Double technicals for jawing? Who cares. Behold!

Oh, it's so sick.
Turns out fans across America agreed with us, giving Wade's brutal banishing of Varejao to the floor a winning 37% of the vote over plays from Vince Carter (over Alonzo Mourning, ouch!), Kobe Bryant on Yao Ming, Kobe on Vincent Yarbrough, Ronnie Price over Carlos Boozer, and Amar'e Stoudemire over Michael Olowokandi.
It wasn't Wade's only win of the weekend so far; our hero handily won 1st in "Individual Series: Playoffs" for his come-from-behind charge in the 2006 NBA Finals (get your goosebumps here). That also notched him a 4th place nod for "Best Individual Performance, Playoffs" while he tied for 2nd in "Regular Season Buzzer Beater."
So what about the next decade?
"I'm really not thinking about being in another uniform," he said from All-Star weekend in Dallas. "I'm thinking about building a dynasty in Miami. That would be ideal, but we don't live in an ideal world. But that's an ideal situation for me."
Okay, so more of the same. But no less, which we'll take as a good sign, too.