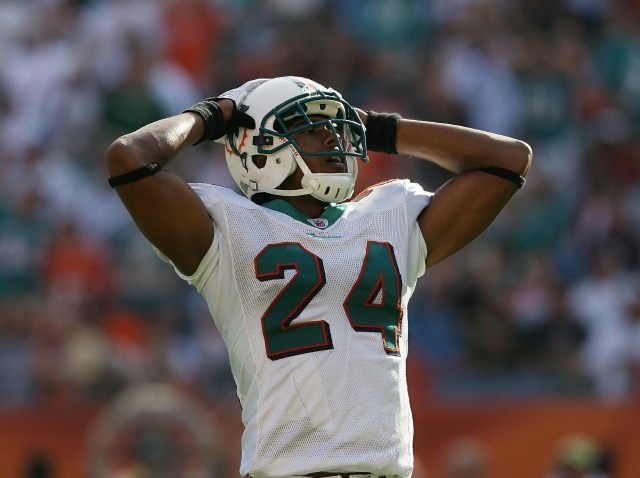 What already looked like it was going to be a long season in the secondary just got longer: Jason Allen has been bumped up to first-team cornerback in place of the struggling Sean Smith.
It's a battle of the burned, prompting just one question: can't we clone Vontae Davis yet?
Until that great day in science, Smith will have the opportunity to win his job back. But after mediocre practices were punctuated by being badly used by the Cowboys' Sam Hurd and the Falcons' Roddy White in the pre-season, it's going to take all of the surety the less confident of the pair can muster.
Or maybe it will take just a couple games from Allen -- as a lingering five-year veteran, he knows a thing or two about failing to step up. After all, he was drafted in the first round of 2006, and has managed to start exactly 12 games -- four fewer than Sean Smith did in one season.
Either way, the Dolphins allowed a league-high 8.2 yards per pass attempt last season, and can't afford to get worse.
Maybe this step is just the coaching staff trying to grab Smith's attention? Reports suggest he functions better with criticism caked in sugar, so it's anyone's guess.
"It's been a learning process, to say the least," Smith said before learning from coaches over the weekend he would be demoted.
"For the most part I think I had pretty good games, but I always give up that one play that messes it all up. I just have to work on finishing more, and work on my eyes. My eyes have gotten me in trouble. But I'm not too concerned because all these things are easy to correct."