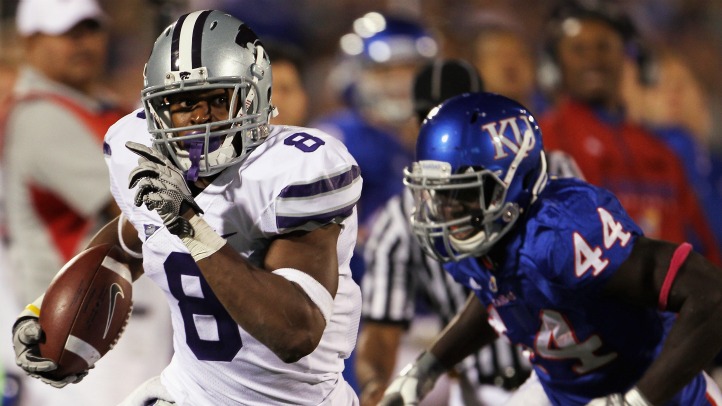 Dolphins second-round draft pick Daniel Thomas may have found himself in hot water with his no-nonsense employers when it was discovered he was identified as a host of a party featuring a number of adult film stars last month in Miami.

Problem is, Thomas had no idea his name was being used to advertise the party.

Thomas issued a statement Wednesday disassociating himself from a May 20 party connected to Exxxotica Expo 2011 that listed his name on promotional fliers.

"I was informed today that my name was used by the promoters of a party held on May 20th at Club Play in Miami," Thomas said in a statement through his agent, Sean Kiernan. "I had no knowledge of the event and did not authorize the use of my name for this party and will pursue all remedies available to me to protect the use of my name."

The flier in question featured images of several other NFL players along with a bevy of porn stars. The NFL has had the flier removed from the Exxxotica website, calling it "a routine intellectual property issue."

Not only did he not attend the party, Thomas says he was in Los Angeles at another event that weekend. "I am a man of high ideals and am deeply saddened by what has occurred," his statement concluded.

Thomas' name was listed alongside those of two other recent draft picks, San Diego's Cory Liuget and Baltimore's Anthony Allen, on the flier. Above their names were images of five other players, Major Wright, Kareem Jackson, Jacoby Ford, Eric Berry, and Brandon Flowers.

Kiernan confirmed to the Miami Herald that Thomas was with him in Los Angeles that weekend, and that his name was also used on a flier for a party at Miami Gardens' strip club King of Diamonds on May 21.

Thomas is not the only player on the flier issuing statements. Wright's agent said he authorized his name and image for the flier, but did not know the party was associated with the Exxxotica Expo. Liuget said through his agent he did not know about the party nor did he authorize the use of his name on the flier.