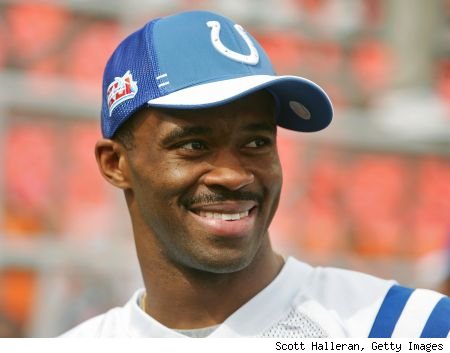 While the entire media world is abuzz with the Minnesota Vikings reprisal of the suitor role on "As the Brett Turns", there is another sure-fire Hall of Famer that Dolphins fans should hope is getting the same type of attention from Bill Parcels.
Sure he isn't the Peyton Manning security blanket he was for the first decade of his career, but Harrison, 36, can still be plenty productive and hold that ever-coveted veteran leadership mantle in the locker room.
And let's face it; he probably could compete as a No. 1 receiver on this team judging by what's on the roster right now.
Who would you take, an aged Harrison or the routinely absent Ted Ginn Jr.? Is Greg Camarillo fresh off a knee injury any better? How about recent draftee Pat "I don't want to be a wide receiver" White?
Ask noodle-armed, yet accurate QB Chad Pennington what he wants and he'll probably tell you someone who is sure handed, runs great routes and doesn't have to run 50 yards down the field to get open.
In short, Harrison.
Yet, according to countless media reports, Harrison's phone has been so silent he picks it up just to make sure Sprint hasn't cut off his service.
In 15 games last season, Harrison caught 60 balls for the Colts, which would have been tops on the Dolphins. He would have finished second in receiving yards and touchdown receptions. So while Harrison may have lost a step, he hasn't lost his hands.
And what better motivation for a veteran past his prime than being spurned by 31 other teams, including the one that you helped make relevant again. Harrison would probably play for free if it meant he could get the opportunity to prove he's still got what it takes.
Who would be better for a roster filled with young receivers to learn from than one of the greatest receivers and most professional players in NFL history?
So as the dog days of summer saunter in, one can't help but hope the Dolphins are looking at bringing in an old dog – and not that one in Mississippi.