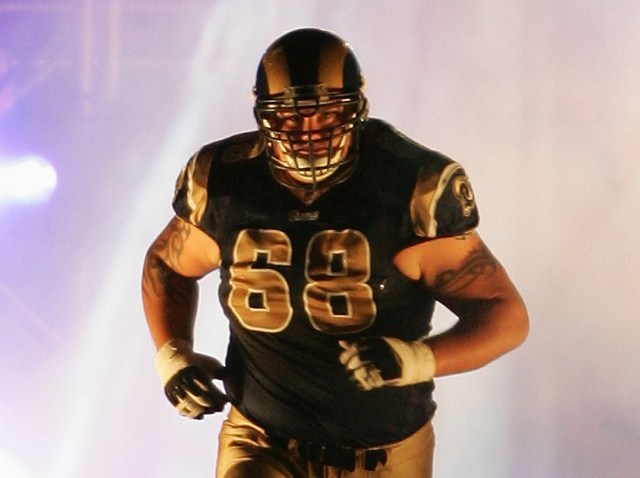 We like 'em round, thick, and juicy -- who doesn't? -- but also aggressive and angry and a hair past volatile. So imagine our joy to learn controversial guard Richie Incognito agreed to terms on a one-year contract with the Dolphins this morning.
Unfortunately, just as Incognito joins Miami, he's turning over a new leaf.
"It comes down to me being accountable for my emotions on the field,'' Incognito said about changing his ways, ways that have seen him fined nearly six figures in two games alone. "It's not time to place blame anywhere else, except squarely on my shoulders. It's something I have to take care of...I'm willing to explore all options to help myself get to a better place.''
Bummer. Not that we were looking forward to endless personal foul penalties, but a late hit here and there and twice on Sundays is good for morale -- so long, of course, that one isn't also accosting one's own coach on the Rams' sideline.
"There's a fine line, especially when you play offensive line,'' he told the Miami Herald. "You're coached to play through the whistle, and I've always been toeing that line. Always over and back. It was a real good wakeup call getting cut in St. Louis...Getting moved out of there to Buffalo, it really made me look at the error of my ways."
Yeah, finding one's self in Buffalo will do that. With the Dolphins, Incognito is expected to compete at both guard spots, and perhaps because of his history of violence (so to speak), they weren't willing to guarantee a lot up front. Sources say Incognito has agreed to a one-year deal that, even if he reaches the "heavy" incentives, can't top $1.3 million.
Hopefully, that'll serve to make him angry.
Janie Campbell is a Florida native who believes in the pro-set and ballpark hot dogs. Her work has appeared in irreverent sports sites around the internet.